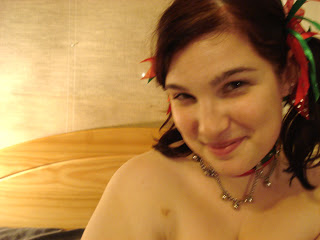 So I got a client asking me if I offered a discount on Christmas.
Considering there's no public transit and the cabs charge extra to run on the holiday, WHY would I work for any cheaper? If anything I should get time and a half, right?
Argh.
Other than that blip, my holiday was lovely. Spent most of it on the laptop or watching TV, but very chilled out, very relaxed. I had a dinner party on the 23rd, and was lucky to have fireworks brought for me by E (I got to light my first and only firework EVER which was exciting) and my girlfriend and I spent most of today chipping away at the leftovers. We also watched Hogfather, and Doctor Who, and some other bits and pieces.
I'm excited about two of my naughty holiday presents- a clit pump and a black furry butt plug cat tail. The tail is something I've drooled over for a long time and having it makes me really, really happy. It's a bit on the bigger side, but that's kinda fun. I can't wait to try it out with my kitty ears and a little bowl of milk... And the clit pump just seems like it'll be interesting fun. I may try it out tomorrow and offer up a review. ;)
Apparently tomorrow I may well be kidnapped along with my girly by T though I'm imagining this to not be in a sexual way. However, this fits in nicely with a particularly hot fantasy that TB whispered in my ear while I was masturbating a few days ago, involving him, my girlfriend, T, E, and J&J. This whispered suggestion of a scene involving me being trussed up for use by my current or hopefully future play partners was incredibly hot and is something I'm kinda thinking about more often. To prove this point even typing out that turned me on enough for me to try out the clit pump, which offers up not enough vibration but an interesting mix of pleasure and pain that I find rather exciting. More experimentation, I expect?
I'm also excited about an upcoming play party I'll be going to, hopefully with a few friends, and an overnight date with E that sounds like I may well be on the bottom. Yum. I'm a bit eager to have my hands help down while my neck is bitten, and my bruises are starting to fade- a terrible predicament, truly. And looking at the really sexy photos TB and I took for the holidays... well, I'm missing him a bit. More than a bit.
It's really about time I sleep though so I can make it through tomorrow!