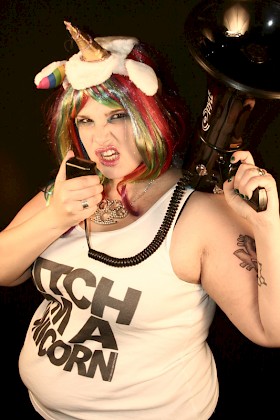 2015 has been one of the most bullshit years of my life in a lot of ways, but I suppose I'm grateful for the lessons it taught me about asking for help, trusting my gut, and walking away from people who don't give as much as they take.
It also taught me a lot about the importance of community support- I wouldn't be able to pay my rent if it wasn't for Patreon, and I'm grateful to my patrons for supporting me through a bad breakup, being fired, and a lot of emotional distress. Money may not buy happiness, but it can help buy security, and that's just as important.
I wanted to give my readers a roundup of people on Patreon who are doing amazing work and who could use a couple of dollars kicked their way - all of them, as far as I know, use Patreon to raise funds for their day to day expenses, as the work they put in the world, though awesome, is undervalued by society.
Check them out, see if you like them, link to their work on your own social media, share the wealth. All of these people offer value to my life, and I'm sure they'll offer value to yours as well!
Myles Jackman - Supporting Myles and his work offering pro bono legal support to queer folks, kinky folks, and sex workers feels to me kind of like paying into insurance. Myles is known as the Obscenity Lawyer, and he does incredible work, often for free, defending us pervs from sex moralism. He's awesome and you should give him money.

Unwoman - An accomplished musician with multiple amazing albums, Unwoman releases cover songs via her Patreon that range from the currently popular "Bad Blood" to the very old "Come Take a Trip On My Airship". Each song features her beautiful cello playing. I've made a porn music video to her cover of "Take Me To Church" because I loved it that much.
Doublecakes - Full disclosure, this is my girlfriend. She's a great writer, the editor for Harlot Magazine, and a killer pinball player. In 2016 I *believe* she's going to be doing ukulele and/or banjo covers of various songs, one a day, and using Patreon to distribute them. Having seen the song list she has planned (including "Giant Woman" from Steven Universe and "Still Alive" from Portal) it's going to be epic.
Cameryn Moore - Cameryn writes some of the best erotica I've ever read. She does custom pieces through her project "Sidewalk Smut" (I'm lucky enough to have one on my wall) but she also writes about her experiences as a phone sex operator, her opinions on some of the worst sex tips, and some beautiful stuff about relationships. I haven't been able to see her perform yet but I look forward to our paths crossing!
Mattie Brice - Mattie is also a writer, critiquing games, play, kink, gentrification, and just so, so much more, as well as being a unique game designer. Everything she's written has led me to think long and hard about how and why I do things, and I am a better person for engaging with her work. You should fund her writing because it's some of the best I've ever read.
Roaring Engines - This is brand new! Thorough and honest reviews of motorcycle equipment that doesn't assume you have lots of money, Roaring Engines is written by a motorcycle enthusiast, Connor, who rides every day. I am not a motorcyclist myself but I know a lot of folks who are, and I know that trying to work out what's worth plopping down serious cash on can be difficult.
Amy Dentata - With her newest game discussing abuse and PTSD, "Trigger", just coming out, Amy is showing her incredible eye for storytelling through the interactive medium of games. She also writes about GLBT issues, mental health, and futurism.
Postmodern Woman - Postmodern Woman is new to me, but I appreciate the ways they discuss various alternative relationship models, as well as their own personal experiences. With subjects like relationship anarchy and non-anarchists, how to manage metamour relationships with they don't get along, and nonmonogamous aromantics, there's a lot of info/insight here that is sorely missing.
Elle Armageddon - I've enjoyed Elle's snarky and right on writing about surveillance, engaging with social media, privacy and more... but I'm particularly in it for her flow charts. Addressing issues like "Should I explain the thing to the lady" and "Is it a compliment or street harassment", Elle has the answers in a way that's fun and honest. Oh yeah, she also provides medical and legal support for protesters!
Toni Rocca - Toni runs GaymerX, one of my all time fave conventions for gaming of all kinds. She's got a patreon to help her fund making her own games and zines in her free time. Toni is brilliant and wants to be able to make it feasible to offer the games she makes/collaborates on with others available for free- you can bet they're going to be awesome, if Read Only Memories is any indication.