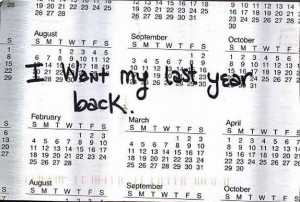 On our last date, we were camping. I watched a father and his little girl cycling on the path around the campground. There was a slight hill, so as they came by our camp, the dad would encourage her, saying "pedal, pedal, pedal! There you go! You've got it!" It made me smile.
I turned to N and said jokingly "you know, if we ever go cycling together, I might need that level of encouragement as I get back into it..."
He looked at me with such disgust in his eyes.
"I'm not into that daddy stuff."
It was like I had asked him to shit in my mouth.
I was taken aback, because we had talked a lot about how I wasn't into ageplay, after a particularly traumatic couple of experiences with AB/DL exes. Sure, I happen to enjoy a lot of things that are dismissed as childish, like Saturday morning cartoons, cute flannel sheets, sticker charts, dressing up, Christmas, and colouring books. But I've come to a place where play is a part of my life and my self care. Personally, I don't have a little side, I'm not looking for a daddy to keep me in line, I just want to have simple, carefree fun sometimes. Life is fucking hard.
Ultimately though I realized this wasn't even about that stuff. His reaction wasn't ultimately about ageplay, or me being too childish. It's the fact that as a society we tend to emphasize total emotional independence. We're not supposed to ask for help, or reassurance, or acknowledgement. We live in fear of being too needy, afraid of being the person of more interest, worried about any vulnerability. Femmes, especially, are encouraged to be "chill" and "one of the guys", rather than asking for our needs to be acknowledged, never mind actually met. This often feels times a thousandfold when you're nonmonogamous, hence my near constant ranting about the bullshit that is poly libertarianism.
Here's the thing I've been noticing though. While yes, I did often ask for small levels of reassurance on a semi-regular basis, I also did it the adult way- clearly asking for what I needed, acknowledging when I wasn't entirely sure, and doing the emotional labour of figuring out how best my needs could be met, in bullet points we called "action items". I am not a chill person, so I figured that self-management and clarity were important life skills.
It wasn't that N didn't have any need for reassurance, though, on reflection. He just never directly asked for it. Instead, he would construct predicaments where I would have to navigate his spoken feelings, his unspoken feelings, and my feelings, like a really fucked up psychological Crystal Maze. He'd say little wistful asides about other partners, other sexual escapades, keeping me striving to be appealing and desirable and worth his time (which, of course, was often treated as far more precious than my own). In less charitable moments, I wondered bitterly if N just enjoyed having a bunch of women subtly fighting for his attention, while he stood passively in the center of it looking bewildered for plausible deniability.
And that's part of why I was so hurt when he recoiled at my request for his cheerleading during some future bicycling session. Because in my mind, emotionally freaking out while being unable to communicate why or what would help is far more childish, and yet I was the one being shamed for my immaturity.
Months before, he had asked me what would be "fun" for us to do for a date. I laughed a bit bitterly, because I didn't really know what fun was anymore. I had learned that taking N to events would often end with him not engaging with anyone and me having to apologize for it, so that felt like work. I had learned going on trips together was fun while we weren't sober, but that after 24 hours he would range from being dismissive and cranky to just straight up mean. I learned that I would often be left on my own if we hung out with his friends, and that unless hanging out with my friends involved him being free to fuck other people, that felt like a chore too. So we'd stay in, because anything else felt like even more emotional labour. And work was fun, right? Financial security was fun.
Now I'm beginning to actually have fun again. I'm finding myself excited to dress up, to play games, to go out. I'm seeing friends more often. My libido is slowly coming back, along with my confidence. I'm surrounded by people who don't make me feel bad for enjoying the things I enjoy, no matter how silly. And being able to embrace that childlike sense of wonder and play close is making the adulting easier.
I didn't need a daddy. But goddamn it, I wanted a fucking sticker chart to acknowledge my effort.