What can I say, I'm a sucker for giveaways, and with summer on the way, what better than two vibes perfect for traveling? They're both super sweet, just too buzzy for my tastes- my loss is your gain (and don't worry, I used the tip of my nose to test, they're perfectly safe!)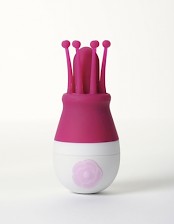 First up is the Princessa, a vibrator I won in a contest from PleasureChest.
I wanted to love it so badly, because it's just so pretty and reminiscent of flowers, but it's too buzzy for my tastes. Enclosed is the charger and the wall charger, though honestly I have no idea where the cradle is (I'll look, though, while the contest is going on!)
The Princessa has 3 vibration strengths as well as 3 patterns. There's a pinpointed vibration in the middle, as well as the little stamens, which vibrate and stimulate around the pinpointed sensation. The toy is made out of silicone and is splashproof, but not submersible.
Look at how cute it is. I really love how vibrator design is moving into the realm of art, as well as function. I much prefer to have vibrators that are nice to look at as well as enjoyable to use!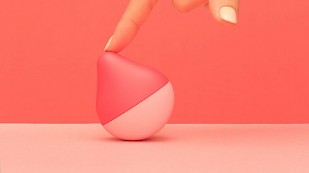 Second up is the Iroha Mini, a cute little vibrator I reviewed from the UnBound Box.
I was honestly really tempted to keep this one for myself, but then reasoned that I already had some smaller vibrators and didn't need to keep yet another "just in case" when there were plenty of people whose bits were sadly lacking in such things. It has one speed, so consider it an easier to hold onto bullet rather than a full on vibe.
Made with silicone, waterproof up to 50 centimeters, super discreet and taking only one AAA battery, this little vibe is perfect for traveling, getting frisky in tight spots, playing in the pool or bathtub, or just exploring with at home!
If either of these little summer buzzers appeals to you, then enter this contest below for two chances to win! The more people enter the contests, the more often I'll be likely to do them, so tell your friends!