I am totally into subscription boxes right now, and as I have been terrible about updating my #femmefridays I hope you'll forgive me and let me review this incredible subscription box on a Monday instead.
I'm one of those people who likes varieties of things. I love sushi, because I can try lots of stuff at once, or buffets for similar reasons. I especially like it when I can be introduced to new things, flavours or experiences I may not have sought out on my own, or even known about. In that way, subscription boxes are ideal, and there boxes for all sorts of goods, from cocktail fixings to makeup to bowties to geek stuff to Japanese candy... and on, and on.
Well, when I saw that adult subscription boxes were a thing, I was definitely curious. I could imagine it being a really nice, luxury thing, or being kind of novelty-filled and useless to someone who's kind of seen it all on the sex toy circuit. The last thing I need is another set of sex dice, you know? I've outgrown that sort of thing (unless they're 20 sided, then.... well.)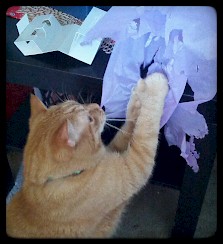 There's a few out there, but the first one to show up on my door stop was the UnBound Box, a really beautifully presented choice with an online magazine that includes reviews. I liked their brand voice, which is friendly, fresh, and queer-positive in a way I appreciated. I also really liked that they had articles on products I hadn't seen before, which, considering I'm jaded, is very impressive.
As I've been doing sex toy reviews for a while, I recognized several of the toys from past boxes, or that they sold directly on their site, so I figured the UnBound Box would be a good place to start. They seemed to have an eye for quality.
Cost: $65 for a quarterly subscription
I can totally see this being a good gift, as it comes in a pretty box (inside an unmarked box, for discretion). It's wrapped very nicely, though as soon as Foucault saw the tissue paper, he decided it was for him. Thankfully I got the photos done before he ripped the paper away!
I appreciated that the box came with a card explaining the contents, which makes it easy to see at a glance what goodies you got each time. Taking a glance over, I noticed to my delight that the selection was reasonably gender neutral, and everything included could be used for a variety of couples/triples/orgies.
So, let's go through the prizes!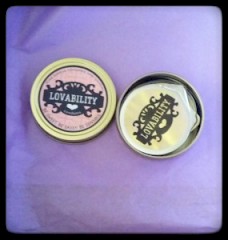 Lovability 3 pack: $7.99
I had indirectly heard about Lovability when I was writing about banks shutting down bank accounts for porn performers. Lovability had some issues with Chase Bank, who didn't want to associate with them because they were considered adult, as a condom company. Anyway the CEO, an early 20s aged woman named Tiffany Gaines, fought back and eventually won the right to have payments processed for her company. I admired her tenacity and hell yeah indie businesses run by women!
Anyway, this is a tin that's cute and kind of looks like a lip balm or a solid perfume. Inside nestle three latex condoms in a really interesting package, which is a bit sturdier than the usual foil. Whether they're easier to open when your hands are lubey or slippery with squirt? Well, I'll be testing that out later. Stay tuned for a mini review! Also they're looking into non-latex options, which will also be nice.
Seagrape Bad Girl lip tint: $6
I love indie makeup quite a bit, so I was excited to see a lip tint in my UnBound Box, especially in a pink that I'd enjoy wearing. I had heard great things about Seagrape's edible body dust, so have been wanting to try out their products for a while!
This lip tint is flavour-free, which I quite liked. Made with beeswax, cocoa butter, shea butter, mango butter (!), and lots of yummy oils, it's all-natural and coloured with natural minerals and micas. It left a very light tint to my lips- not a lipstick, for sure, but perfect for those fresh, sunkissed looks for summer (and less likely to smear all over the people you make out with at Pride!)
If you want to help support small business, especially ones run by women, check out her IndieGoGo as well! There are some nice perks.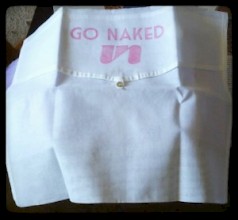 Devine Lingerie Envelope: maybe $20?
Devine Lingerie has more of these envelope-styled lingerie bags, but the other ones have fancy crystals on them- therefore I'm making a guess at the value of this particular envelope. I believe it's a custom job for the UnBound Box.
These are made with 100% cotton, and has a button closure along with two small compartments inside to partition everything out. I don't tend to treat my lingerie very well, and it's pretty sturdy because of that.
However, I realized this would be ideal for packing stockings, which is something I often need to do when packing for shoots or smutty weekends away. Considering how often I accidentally get a run in them, or fishnets get caught on a zipper, this bag is going to be a godsend for those situations!
Iroha Mini: $25
This is a really adorable vibrator. It would fit easily in a purse or a backpack, is submersible up to 50 centimeters (so yes, you can use it in the bath), and is made of silicone, so nicely sterilizable. One thing I think is really cool about this vibrator is that 100% of the design was by women- the hardware, the concept, the motor, all of it. How nifty is that?
This isn't a hitachi substitute. It runs off of one AAA battery, so expect something that's a bit buzzy and not particularly intense. Ideal for someone new to vibrators on their clit, for playing with the labia, for pressing against nipples, or for stimulating the perineum, it's just a really cute little vibrator.
It's made by the sister company of Tenga, and have the quality one would assume with that association.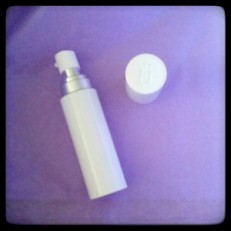 Uberlube Good to Go: $14
When science and good design meet, I'm really excited. Uberlube is a really incredible lube in an elegant and modern container, but it's also useful for taming frizzy hair, shining leather boots or shoes, a lock grease, a moisturizer, a friction-reducer for joggers... it's actually just useful to have around. There's only four ingredients, and it has an adorable story about how it got created.
What I love about this is that it's not easy to guess what it is initially- the packaging is relatively discreet, it's refillable, and it's travel-friendly being the 3oz required by the TSA and also having a solid metal case.
Now, for the hippies out there- this isn't the all-natural organic lube. That'd be Hathor Aphrodisia, also one of my favourites. Even so, this lube was really excellent even for my sensitive bits!
Butter-me Bar: $5
So the Butter-Me Bar is a cocoa butter massage bar that they recommend also possibly using for sex or masturbation. I will note that you should NOT use this if you plan to use a condom, as oils can break down condoms and render them ineffective.
Other than that little word of warning- this is a massage/masturbation/lube bar with a big smiley face on it. As someone who gets friction burns from my Hitachi time every once in a while, I figured this might be really useful. Also what better incentive to give more handjobs but to moisturize my hands at the same time?
This bar smells really lovely, and as it's 100% cocoa butter, it's natural and nice for bodies.
Total UnBound Box product worth: $78
So there were some major wins, some eh, and one meh for me in this box, but I appreciate that things I won't use can be giveaway fodder or birthday presents, no harm done. I really liked that nothing in here screams "HETEROSEXUALITY" or even "COUPLES". It's just a nice friendly box of fun toys to explore, by yourself, with a partner, with multiple partners... whatever. I like that.
I'd recommend the UnBound Box, especially since it has things that are generally useful to have around, like condoms and lube. I use condoms on my toys, as well as as my boys (hah see what I did there) and so having some around is always useful. Also since different people like different condoms it can be fun to test them out and see how I like 'em.
Want to try it out for yourself? Use the code "kitty10 " and get 10% off your first box!
Thank you UnBound Box for sending me this sample in exchange for an honest and fair review! <3