I tend to go for toys that are a lot bigger than I can actually use. This is a constant issue for me, as I now own several Outlaw dildos, which I love the IDEA of but not actually using them.
Well, ok. At least, not on myself.
I know, I know, size doesn't matter, but I still feel this weird pressure to perform, I guess. And part of that is having a dildo as long and thick as my arm sometimes, you know?
But then I found a dildo that was so cute, I loved it no matter the size. And I discovered that this little darling was perfect for my penetrative needs, especially since I sometimes go long stints without PIV sex, and especially when I am really really wanting to explore anal play and am really nervous about it.
The dildo I fell for is called the Splish, and it's 4.5" long, 1" in diameter, and looks like a mermaid's sex toy. It's from the folks at Tantus, so you know it's excellent quality and made with hypoallergenic silicone. It's got a pretty pearlescent colour to it, and also is dual-toned, lavender and white. So pretty! You can put it in the dishwasher to clean it, which is always nice for efficiency reasons.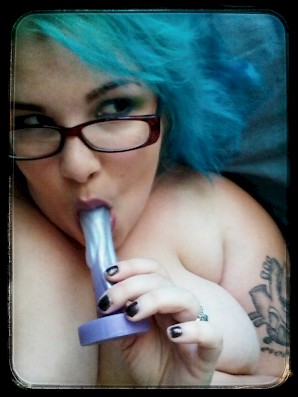 There's a light texture on this dildo thanks to the liquid-inspired pattern dripping down the sides. It's enough to feel a little something extra without it being too intense. That said, this is a very small toy, compared to more toys on the market, so the texture may not be as noticeable for people who are more accustomed to PIV sex.
What I really want to try is double penetration, and honestly I think this dildo would be perfect for that. It's not too big, it's got some texture, and it's got enough length to feel it without being so long it's uncomfortable. The flared base makes it suitable for strap on harness use, though be aware that often you lose an inch because of the way bodies are shaped. You may want a smaller O-ring to ensure it stays stable during use.
This may also be a good dildo for trying anal play on a nervous partner, because it's just a little bit wider than a finger and is very flexible. My current lovers are a little more accustomed to that kind of thing, so it's a lot more likely to be used on me - for all I'm accused of having a stick up my ass, trust me, it wouldn't manage to squeeze in there, that's how tense I am! I have high hopes that the Splish will help me relax a little so I can try anal play again at long last.
I definitely recommend this toy, as long as you know it's petite, flexible, and basically a step up from a couple of fingers. It'd be a great exploration toy, particularly for someone who is just learning how to enjoy penetrative play whether anally or vaginally. Get your own Splish here!
Thank you Tantus for sending me this sex toy in exchange for an honest and fair review. And if you purchase through these affiliate links, I get a little kickback!