Every summer is a constant battle between wanting to feel comfortable in the clothes I'm wearing and not die of heat. My thighs rub together if I'm not wearing tights under my short shorts, and my dresses require bloomers to not suffer excruciating pain. I want to wear light flowy cotton dresses, but clothing stores want me to wear maxi dresses and black "because it's slimming". Ugh.
Virgie Tovar is someone I adore, and when I saw her using the hashtag #LoseHateNotWeight, I realized that this was a perfect call to chubby arms. Not for me the one piece bathing suit with the fat-squishing panels! Not for me coverups to hide myself as I scamper from shower room to poolside. Not for me baggy clothes to hide my rolls and curves, not anymore!
#LoseHateNotWeight is the perfect poolside accessory, as well as your new lifestyle choice. It's my new obsession. I've worried about my body for too long during the summers.
As a porn performer, I'm used to being nude on camera. That doesn't bother me - I feel comfortable there. I think the more I look at Tumblr the more I realize for every person who thinks I should suck my stomach in, there's more who love the soft roundness of my belly, and they're my audience too. I find it easier to not hate my filmed, sexual body, because I have people like April Flores who paved the way and showed me it was possible.
Yet for all that it's still scary when I'm off camera. I worry more about how my legs look in shorts than in a garter belt and stockings covered in my costar's squirt. I'm kind of known for being body positive and owning my fat, but I still feel pangs of hatred when I can't find cute clothes that fit me or my tights get a hole where my thighs meet, again. My legs have been covered in stockings or pants in every erotic photo set I've done. It's so weird to think about how I love fucking on film but show my legs and accompanying cellulite? HELL no.
I'm regularly insulted by people who wish to discredit the things I say. It's rarely about my intelligence, or my logic, but rather my body. We live in a society where women are frequently judged on their "value", often meaning sexual attractiveness by culture's standards, and sexual availability- not too much, not too little. I have always been too much of everything- I take up too much space in every way possible. I used to feel self-hatred for that.
But fuck that noise. #LoseHateNotWeight, right?
So when I did a shoot for fellow fat femme Courtney Trouble, I knew what I wanted to do this time. I wanted to do a shoot with my bikini, thighs bared to the world, while also eating donuts. Because fuck the media, my bikini body is the one I put a bikini on, right? And why not smash a few no-nos for fat women at once- eating in public, and showing skin, especially bikinis?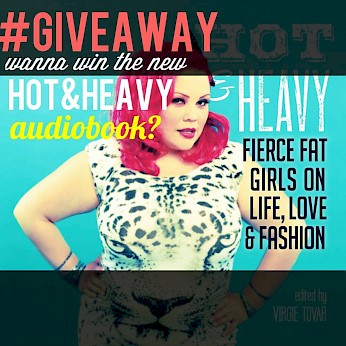 Every time I'm in front of the camera I feel like I'm doing something to help other fat femmes feel safer expressing their styles/sexuality/vivaciousness. Women are systematically told to shut up and look pretty, and fat women are told they can never be pretty so should just shut up.
Well, I think that's bullshit. I'm glad my fashion inspires other fatties to embrace their inner style icons. As Virgie taught me so well, "the size may say no, but does the stretch say yes?"
In honor of that, and in honor of a summer without hate, I'm also going to give away a free audio copy of "Hot and Heavy: Fierce Fat Girls On Life, Love and Fashion"! Perfect for you to listen to on an airplane to a vacation, or poolside while you catch some rays.
Also, keep up with Virgie by signing up to her list- you won't regret it, she's an incredible writer!