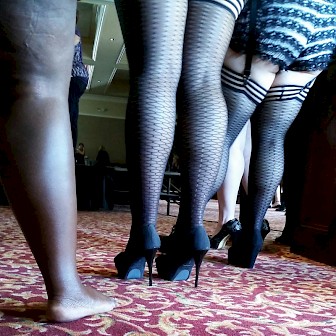 I went to the Curvy Girl Lingerie Show this weekend with Virgie Tovar. I was excited to hear about a lingerie store catering to plus sized bodies, but have to admit I was a little uncertain. As someone who does erotic performance, I've had a rough time finding underwear that fits comfortably on my body but also looks really cute and isn't super cheap, material-wise. I haven't found much, which is why I often buy my underwear from Marks and Spencer out in England!
I needn't have worried. Chrystal Bougon, owner of Curvy Girl Lingerie, had an amazing collection on show, and, even better, displayed gloriously on all sorts of bodies (not just 2x!). I saw things on the runway I wanted to wear, and in all these different cute styles. Not just baby dolls and ruffled panties, either, but all different styles, fitting up to at least a 6x (with the owner wanting to go even bigger with her selection!) And the thigh highs made me drool too (by Kix'ies, which Virgie had pointed out to me earlier and I need to get ON that train).
Lingerie holds a special place in my heart. I mean, part of it is because I'm a femme, and lingerie feels like a particularly femme luxury. Lacey, satiny, soft, see through, floaty or tight, it's all good as far as I'm concerned, though there's a special place in my heart for the things I can wear, hidden, underneath my clothes as a secret self love or, sometimes, as a special surprise for a partner. And of course, in porn I like to have a lot of different looks, so I'm always looking for new possibilities!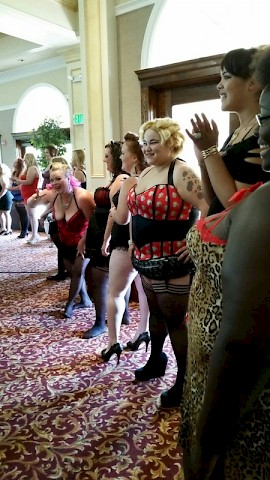 The problem is, though, that there's few enough stores that carry plus sized lingerie, never mind plus sized lingerie that actually looks and feels good on my body. A lot of the choices out there are modeled on women who are, at biggest, a size 12, which doesn't really tell me how it might look on me. I'm tired of buying lingerie that doesn't really fit my body because "true to size" means different things to different companies. I'm tired of having to choose between things I can't actually try on and feel on my body and very plain, functional underwear, or underwear that falls apart after one wash. Curvy Girl Lingerie showed me that I had an option (though it's apparently the only plus size lingerie shop in the US. Seriously???)
What was particularly nice about the fashion show was seeing how various pieces looked on bodies like mine, and Chrystal was really helpful in explaining what the sizing was like from each brand. A 2x can fit me in one brand but not in another, so the diversity of bodies showed me how they REALLY looked on.
But the big plus was seeing the confidence on the women as they walked the runway for us. I haven't been in many spaces that cater to fat femmes, and it was really amazing and special to be surrounded by gorgeous women of all ethnicities, ages, and body types walking around, reflecting their own styles and what makes them feel good. I appreciated that not all the models wore heels, for example. Some were professional models, others were not. I felt honoured that they would put themselves out there in this way, as we're not a society that encourages fat bodies to feel good in their skin, never mind sexy.
Also nice for me was that Lelo, one of my favourite sex toy companies, sponsored the event (and VIPs got some pretty awesome toys!). I appreciated the underlining of self love at this event, that sex (our sexual pleasure, at that) was on the table. Even fat bodies in lingerie are sometimes desexed, shown reluctantly as existing but only when it comes to marketing lingerie for wearing very much in private, or as part of an art show. I think it can be easy to forget or overlook just how often fat bodies are not seen or given the same exposure as slender bodies, or even athletic bodies. When we don't see ourselves represented, it becomes easier to engage in self-loathing, and easier to ignore our own sexual feelings, disassociating from our bodies.
I feel particularly lucky as Curvy Girl Lingerie is down here in the South Bay, so I can pop by there as often as I like. And I plan to- I can already imagine the photo shoots and sexyfuntimes I could have with this chemise, or this babydoll, or this bodystocking! Mmmmmhmm.
I remember when I really hated my fat body. I would wear baggy mens jeans, and baggy teeshirts, not because I liked them but because I was afraid of my rolls. I was afraid people would see my cellulite and laugh at me. Thankfully I had a lover who suggested I throw away all my high waisted cotton granny panties and replace them with thongs, with mesh, with cute patterns and bright colours. And even with that simple little change, I began to feel more confident, wear more skirts, enjoy getting dressed. Now I love fashion, but in order to feel that way I had to love my body.
When I wear lingerie, I feel powerful in my femme-ness. Especially when that lingerie fits my body well, doesn't dig into my armpits or strain to cover my stomach. I feel like it's a validation that yes, women with bodies like mine CAN wear sexy stuff if we want, and that we have options that embrace classics like red and black or leopard print, but that also follow the trends with coral and seafoam green.
I'm grateful to Chrystal for all the work she does in proving that, as well as all the models who put themselves out there. And thanks, Virgie, for recommending I go!
Be sure to check out the #losehatenotweight giveaway I'm doing with Virgie! It's for the Hot and Heavy audiobook, which features a piece I wrote among other incredible stories!