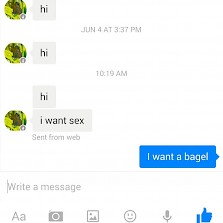 So I'm on this secret dating group, and it's where I go to gave femme talk about my lovers, as well as live vicariously through other women and hear about the online dating triumphs. Or, more often, the pitfalls, of which there are many. We all have our different techniques, of course. There's women on there who swear by OkCupid, others that use niche fetish or swinger sites, still others that use Tindr. Some of us use more than one, depending on what we're looking or in the moment.
Now, I met my partner on OkCupid, so I think it's a reasonably good way to meet people who are a little alternative (poly, kinky, nerdy, artsy, queer, etc). The risk, of course, is that the men of OkCupid tend to not know how to initiate a conversation with a woman, and their messages are often pretty one dimensional at best, forcefully entitled at worst. Pictured here is a conversation I didn't get from OkCupid, but from Facebook... still, you get the idea. I get messages like this all the time, and yet OkCupid offers so many opportunities to discuss interests. I get bored going through so many messages from men who just want to put their dicks in something, anything warm, that I began to turn my sights towards something new.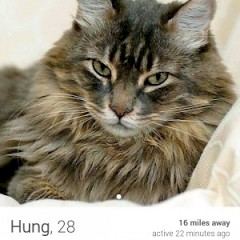 Enter Tinder. Hailed as sort of like Grindr but for mostly straight people, mashing up the instant judgment of Hot or Not with the one liners of OkC. You check out a photo, swipe left for no, swipe right for yes, and if they like you too, then you can message each other. You can write a mini profile, about a tweet's worth of information, and post a bunch of photos to highlight your "personality", by which we mean "your body, and maybe your style". The trick is, you can never delete your profile, so it makes it really easy to continue to use the service, even if you're in a committed relationship. Since Tinder records when the last time you checked in was and broadcasts that, some couples find themselves checking up on each other... especially if they met on the service.
It can be difficult to stand out so someone bothers to look at your profile. Many of the men I've encountered fail in this regard- photos of them as part of a group as a main photo (which one are you? left swipe) or with a woman cropped out (seriously, that just seems awkward, left swipe) or just blank faced boring selfies (c'mon, you didn't even try?). But some intrigue me- I've found guys riding camels, jumping out of a plane, and this guy to the right, who didn't have a personal photo, just a picture of his cat. To be fair, I would love to go on a date with this cat, because he looks incredibly snuggly and that fur...! Even still, I definitely left swipe more than I right swipe, because I don't have a lot of free time, and it takes a very particular kind of guy to pique my interest. I kind of figure most of them will want to engage in inane conversation like the first dude, and no thanks.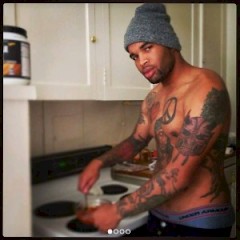 But yesterday I right swiped on this guy. He hit all my marks- he's hot, certainly, has a lot of interesting tattoos, and is shirtless cooking in the kitchen. Um, yes please! I liked what his photo communicated- he's comfortable doing the cooking, he knows that women want to look at sexy man flesh and he's happy to oblige, and he knows how to take a decent picture. I messaged him, complimenting his photo, and we actually got to chatting about queerness, my porn work, and what we were on Tinder for (he did express surprise that I was "willing" to talk to a black guy, which broke my heart more than a little... racism sucks). When I said I was more browsing than shopping, he was understanding, asking me questions about my work that managed to be curious without being invasive. He didn't challenge my queerness, and was flirty without being pushy. He also NEVER talked about sexytimes, which made me feel a lot more comfortable with him. I wasn't expecting to find someone to have a hookup with, but frankly, his attitude was so good, I'm kind of tempted! (also I got his consent for using the image for this)
It made me realize that I don't think many men understand how to create a good, eye catching, clit-throbbing dating profile. A good picture is really important, guys. We judge you, not just on your looks, but what you're doing, if you seem to be having a good time, how confident you seem to be. If your photos show you surrounded by women all the time in a trophy kind of way, we'll likely assume you're not that interested in women as people. If you're particularly sporty in your pictures, we'll figure you'll want someone vaguely athletic. Basically we try to imagine being in the same place as you, and if we can't, we usually keep going. It's the same when women are looking at other women, though frankly I do suspect queer women read profiles more. We know how important words are the the seduction process.
Would you be interested in a constructing an online dating profile guide, at least one according to my own techniques?