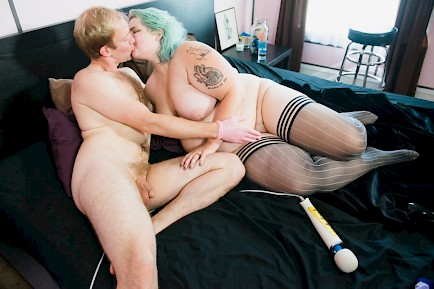 Well the 4th International Fisting Day (October 21st) has come and gone- I have to say, I had a grand old time preparing for and working on it! I have some great footage that's being edited into a fisting scene plus a short interview about Fisting Day, why fisting is considered queer and why its censored, and what it is we enjoy about it.
One of the questions I hear a lot is "how do you get into this?" Fisting is kind of intense- it takes a lot of time, slow warm ups, and far more lube than you'd ever think possible. I find that some days I can manage it and some days I can't- and that's ok! While I find fisting fun, it's definitely an example of enjoying the journey more than the destination... or at least as much!
Anyway, I wanted to write up a guide to illustrate how I warm up for fisting, what sort of toys I use and why so that curious folks could give it a go without feeling as nervous. And please leave questions here if you have them!
I love to start with some hardcore making out. I also like to start off with some stimulation over my panties, like a thigh rubbing against my cunt, or my panties pulled to one side so a finger or two can be slid inside. For me I find a finger moistened with spit is enough lube at this stage in the game, but your mileage may vary.
During the making out/fondling/frottage, we can discuss if I've been warming up using any toys, if I've had an orgasm recently, or any other information that it'd help to share. I've mastered the art of negotiating while also grabbing my lover's ass which I highly recommend by the way, if your lover is into that. Yum.
It also gives me a chance to realize I have to pee (which can totally ruin a fisting experience if you're stressed out about it!) and gives my partner the chance to put down something like a Liberator throe to protect the bedding from juices. I squirt a lot, and reasonably easily, so having something water resistant under me allows me to relax and let my cunt get as wet as it wants to (check out these animated gifs)! The more I feel safe making a mess the easier it is for me to orgasm, and each orgasm tends to open me up a little bit more.
After having two or three fingers inside my now usually wet cunt, I like to switch to toys. Toys are nice because they have a variety that fingers don't really- fingers, while manipulatable, are also bony, and knuckles are surprisingly tough. With toys, too, I can slowly ramp up to a bigger and bigger size, until I've hit the 4 or maybe even 5 finger thickness sweet spot.
I really like to start with glass, too, like the Double Trouble by Fucking Sculptures you see here. The coolness of the glass, the size variation of the two ends, and the totally smooth shape make this a great starter toy from 3 medium sized fingers.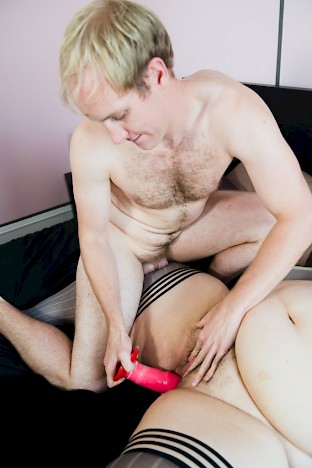 Then I like to experiment with bigger dildos, like the Randy from Vixen Creations. The Randy is nice because while it's pretty thick, it's also pretty short, making it unlikely to beat against your cervix in a way you may find uncomfortable.
The Randy is also nice to use in a strap on harness, or a thigh harness. I personally like having someone use their hands (mainly so I have more access to their body) but for other people the movement of fucking works well to help them relax and open up even more.
Communication is obviously pretty key in these situations, of course! I know my body well, so I know how hard I can push it if that's what I want to do. A slightly smaller but also good choice would be the Maverick, also by Vixen Creations, or if you want more length, you can try the Outlaw, which is reaaaally long but actually a pretty reasonable thickness. I personally love Vixskin, a realistic fake skin silicone mix they use, but you can get some of their toys in regular, firmer silicone too.
Both of these toys are silicone, and as such can be boiled after use to make them sterile again. I use condoms on my toys sometimes anyway just to reduce the risk of any STI transmission even more. If you have some condoms that are on the verge of expiry, this isn't a terrible time to use them up, as the risk is so low and they're mostly being used for quick nd easy cleanup!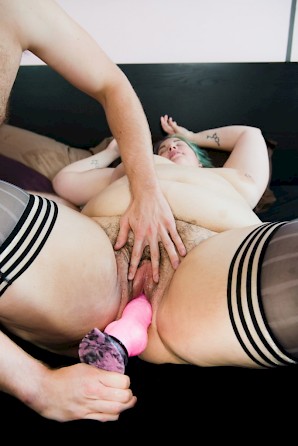 Another type of dildo I've been enjoying for pre-fisting prep has been, to my surprise, the Growler from Primal Hardwere. It's their take on a werewolf dick, and I got a chance to review it for you all. Primal Hardwere is an excellent alternative to Bad Dragon, by the way, if you were looking for a place with fewer problems round racism, misogyny and transphobia.
Funny story, I tried really hard not to get something that looked too much like a dog dick, as some people are really grossed out by that (including one of my sweeties) and I have complicated feelings about it myself. So I got hot pink, sparkly, glow in the dark. It still totally looks like a dog dick though- if that's not your bag, go for very unnatural colours.
The advantage to a dick like this is that it has a knot, which can simulate the feeling of a fist in terms of the narrow end getting wider and wider then popping in. I found this one to be a little long at 8" insertable, but I think that's in part because I have a tipped pelvis. Your mileage may vary. The knot is about 9" circumference, which will aid significantly in getting fisted. I went for a medium firmness and was pretty happy with it- just squishy enough to feel comfy, not so much that it flopped over or was hard to insert.
I can imagine humping this on someone's leg via a thigh harness to be a really, really good idea.
This cock was also great for slow gradual stretching via toys. Called the Hippocampus and coming from Exotic Erotics, I chose the large because it had 6" - 8" around it tip to base, and that seemed hefty enough to be worthwhile but not so much so as to cause myself injury.
One of the big things I like about this toy is that it has some texture without being too hard. Fists are pretty much all texture, all bones and knuckles and tendons. Using a toy that has some texture to it can help ease the transition from one to the other. Also it looks really pretty (though is truly huge when you take it out of the box!)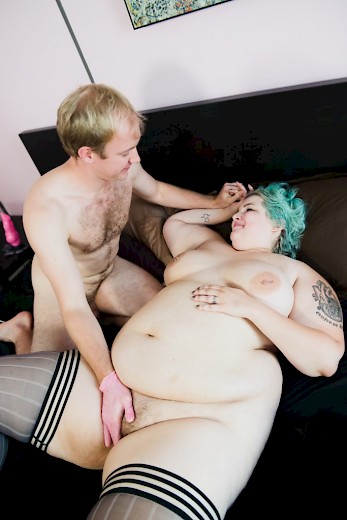 So now that we've tried a few toys, it may be a good time to go to fingers again. This is also when I recommend switching from plain fingers to wearing gloves, if you haven't put some on already. Gloves are great for fisting because they smooth the skin of the knuckles, and remove the risks of being cut by a dry cuticle or a hang nail. Never mind that if you have cuts on your hand, they'll sting like crazy! Gloves are just a really easy and nice way to prep your hands for fisting. I personally go for non-latex, as many people have latex allergies.
Gloves are also good barriers for safer sex reasons. Fisting is considered a lower risk activity for HIV, but is not a zero risk activity, especially when engaging in anal fisting. Hepatitus, bacterial infections, UTIs and minor to major tearing of the asshole or vaginal canal can and do happen if your partner isn't taking enough time to warm you up.
You'll want to lube yourself up well before you start fingering/fisting to avoid tearing. Different people like different lubricants- water based is the most popular (probably something thicker like a gel) though others swear by a silicone lubricant or something like coconut oil. Do keep in mind that oils can break down barriers like gloves or condoms, and that silicone lube may weaken silicone in toys. If using something that you scoop out, try to only scoop product out with a clean hand!
Of course, you'll want to wash your hands thoroughly before and after fisting, just to make sure you're taking those health and safety precautions.
I really love to get a little quality time in with the hitachi before really sticking a fist in me, so finding creative positions that can make both of you happy can make that a lot more fun! I love how here you can see me sucking off my lover while he uses the hitachi on my clit. Multitasking- it's useful!
I also just generally find it helpful to have my clit stimulated by the hitachi once we get to a hand going inside me phase. I can feel my cunt relax against their fingers to prepare to orgasm from the stimulation, and feeling my body doing that makes me care less about whether or not the hand actually gets all the way inside me. Again, it's about the journey, not the destination.
Finally, we get to the hand. It's a good idea to keep your arm straight, fingertips to wrist to elbow, so as not to exhaust yourself with poor ergonomics before you've even really gotten started. As you can see my sweetie here has a nice right angle between his shoulder and his arm, which will give him more leverage. Usually, I'll push myself into his hand rather than him shoving his hand in me, which allows me to go at my own pace. And while sometimes I can be fisted for 10, 20 minutes, usually it's so intense that I'm done after 1-5! Just be sure that your partner will pull out of you slowly rather than suddenly when you ask for a time out.
For me, this is an incredibly intimate act. My partner can feel my heart beating inside me. Every twitch of the muscles, they can feel it in my cunt. My orgasms are laid bare as I envelop my lover into me. It's a lesson in giving and taking, in egging each other on, in trust. A good fisting will leave me struggling to speak, sometimes with my fingertips tingling. Having a bit of dark chocolate and some water around can help a spacey fisting bottom get ahold of language again!
Most importantly, have fun! Fisting is great but it's one of those things that will happen when you're ready. Lots of care, and communication, and (at least for me) making out will help make your fisting experience into something fun and pleasurable instead of something so often dubbed "extreme" or "obscene". Happy Fisting Day (late!)
Thanks Michelle Yoder/James Darling for working cameras on set, as well as J for editing the footage. And thanks, of course, Ned, for being willing to be my model for this project- the pleasure was truly mine! ;) This video when finished will be put up on Queer Porn Tube, TROUBLEfilms free tube site.
Categories: activism, advice, censorship, dildo, fisting, glass, how-to, I left my sex toys in SF, kink daydreams, love, personal, photos, porn, psa, queer