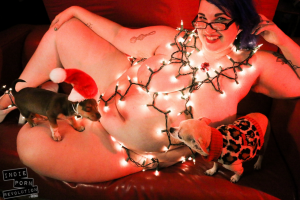 I didn't really write a list of resolutions as such last year, choosing instead to look back on the last 10 years of my online life to see what trends there were in my goals and what I still struggle with.
I decided I wanted to be a writer, and I certainly followed through with that, between writing for the Frisky, the Guardian, the Daily Dot, Fleshbot, and of course, Patreon.
I decided I didn't want to spend most of my year traveling, and chose instead to have more weekends away with lovers and close to home rather than cross country trips to present for free. Because of that I had more energy to spend with my sweeties.
I went from struggling to buy groceries and barely making rent to sustainability, even able to buy a car to commute to TROUBLEfilms and a new laptop to edit video on.
I struggled with meeting new people, so I made more of an effort to spend time with people in smaller groups, or one on one. This has totally been the year of giving up the Fear Of Missing Out, instead reveling in the smaller intimate moments.
I met my lovers' lovers. Most of them, anyway. And it was both incredibly scary and completely soothing, sometimes at the same time. They have been kind, compassionate, friendly, (at least to my face). I've also come to expect that we don't need to be close friends, and pushing myself to envelop metamours as friends just because we're fucking the same person can make things messy and stressful. I've learned how to hold space for other relationships without demanding attention or backing off entirely.
I've found myself having flashes of jealousy over their talent, their bodies, their ease at moving through the world, their opportunities, the attention my lovers give them... yet when sitting with that jealousy, I challenged myself to say yes, to explore my discomfort, to ask for reassurance when I needed it, and I got everything I needed. I let myself be vulnerable, and honest.
When I fell in love, I could honestly say that I was happy being in love with or without the other person, as long as they knew... and I meant it. Not trying to control other people or micromanage my own feelings really helped me sit with how I felt in a much more stable way.
I decided I didn't want to settle for relationships that didn't nurture me, whether in real life or online. I started blocking people who were more invested in playing "devil's advocate" than evolving their compassion or understanding. I stopped asking people to hang out who never followed up.
I said in the beginning of 2014, "I've written about community, and how I feel that what makes a community are people who share some standards of behaviour, who mutually care for each other, who share accountability and responsibility to each other. I think 2014 is, for me, the year that I figure out who my community truly is, who raises me up and encourages me to be better, who I can reach out to for support when I'm feeling anxious, suicidal and scared. "
I would never have guessed that my journey to find those people and really invest in them, wholeheartedly, would have led me to one of my dearest friends V, my tender and fierce girlfriend J, or my deliciously deviant N. My wonderful partner P has also rolled with the punches this year, accepting my love for other people with an open heart. Never mind the joy in having my sweethearts get along together- they sang Christmas carols with me, they prepared a holiday meal with me, they've played games and snuggled kittens and comforted me as a beautiful poly unit and I love them so fully for it.
I know 2014 has been incredibly difficult for many people. I'm glad in many ways that it's over, but I'm also so, so grateful for the bounty I received this year.
2015 will see me throwing a queer key party, speaking at AlterConf on sex work and social media, going to an arcade convention with my girlfriend, and maybe even reporting at the AVN Awards. Also it should be the release of "Banned in the UK" by TROUBLEfilms, my first DVD cover and including my very first piss drinking scene! It's a dvd where I bottom for the 10 acts recently banned as "extreme" by the Brits, including spanking, squirting, and strangulation. I can't wait to show the stills!
2014 was surprisingly good to me. Let's hope it's onwards and upwards for 2015!