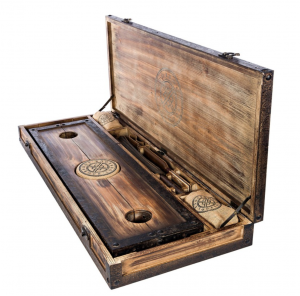 When Lodbrock contacted me asking if I wanted to review their gorgeous Pillory Set, I was beyond excited. Lodbrock's site is filled with luxurious BDSM equipment that manages to look both medieval and elegant. The Pillory Set is the empress at the top, in my opinion, with a full kit that not only includes the pillory itself and various accessories to install it from your ceiling (if so inclined), but also a blindfold, flogger, and paddle, all in a beautiful brown leather. 

When I received the box, the packaging was so subtle I initially believed it was the pantry shelving my housemate and I had ordered for our kitchen. Imagine my surprise when I pulled out a wooden box made of sweet-smelling cedar instead of 5 shelves! Worth noting, though, that the wooden box, while very securely packaged to avoid damage, was very very difficult to free from its packaging. I really wish it had straps or handles of some kind, because something this heavy and bulky will be difficult to move around without them. Leather belts would work in a pinch, and make it more possible to tuck this under a bed or couch when company comes over.

I mean, unless you have the kind of company who is coming over specifically to check out this equipment, in which case...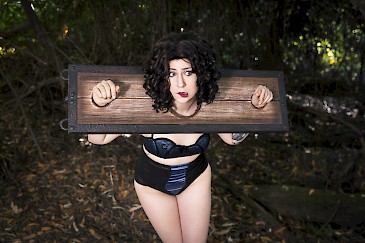 That's pretty much what happened with Shodan, a gorgeous cosplay model I know who was very interested to check out the Pillory Set and take some photos for me. I know, what great friends I have, right? She offered to take the Pillory Set with her for a photo shoot with Jason Scragz (and patronize her on Patreon if you wanna see the whole set, which you probably do, because yowza). 

The pillory itself comes with a set of magnetized leather padded bits that fit inside the neck and wrist holes, which both works to offer some softness and also to make the holes a little harder for small wristed filks to wiggle out of. I like that they're magnetized, which makes it easier to apply them smoothly. It also comes with chains and fittings, forged by Lodbrock, to make it easy to install this unit on the ceiling if you so desire. I thought that was a nice touch.

Shodan did agree with me that the box could use some handles for ease of carrying. While the box is made of cedar, the pillory is made with New Zealand pine. Both smell incredible, but also are heavy!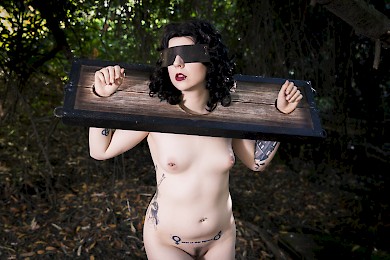 Also cool is that the Pillory Set comes with a flogger, two-sided paddle, and blindfold, making this a cute kinky collection. All are a pretty brown leather, sort of a blend between steampunk and like something from the Sleeping Beauty series by A. N. Roquelaure.

I did wish the flogger was braided instead of wrapped, as I think it would hold up better to use over time if it had the added structure, but it's a nice addition to any kinkster's toy collection. The paddle, which has rivets on one side and not the other, is lovely and something I can imagine packing for a weekend trip - it has a nice sting without being too sharp. And the blindfold, while simply cut out of leather with a cord to bind it on, works well to keep the light out so your play partner can anticipate the next impact. 
What's really exciting is that Lodbrock offered me one of these Pillory Sets to give away. That's right! So go to my Twitter or my Facebook to learn how you can enter to win one of these sets for yourself - an almost $500 value! It's a gorgeous set and any kinky person into bondage would be delighted to have it around, I suspect.
Thanks Lodbrock for the opportunity to try out this beautiful set, and to Shodan for demonstrating it so well!