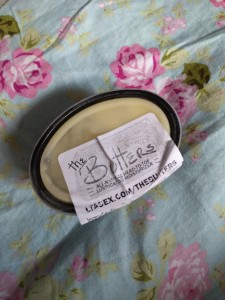 When my buddy posted a call for folks who would try out his new lube, I immediately volunteered. I know Jerome from his blog, LTASEX, where I had done an interview around the release of Hard Femme. He writes great sex ed stuff from a Black, gay, poly and kinky perspective (among other things), does a podcast covering mental illness, and does video interviews (and hey you should go sponsor him on Patreon!)
As someone who is possibly perpetually dehydrated and who tends to not produce a lot of natural lubrication anyway, I'm always on the lookout for something that will be a nice alternative. I'm sensitive to a lot of things in lube - flavours and glycerin in particular, but I also have preferences on gel vs liquid, and how easy it is to get it off when sexytimes are over. I was excited to check out this new lube.
What made me laugh when I went to the site to grab a sample I saw it was called "The Butters". Now, I dunno if you saw this video, but in 2011 this white lady went viral for posting a rant about how Black folks were hiding "the butters" from white folks - cocoa butter, shea butter, etc. I don't know what rock she's been living under, because I've been using coconut oil and shea butter for everything under the sun for years. But it lead to an interesting discussion online about the white supremacist construct of the "magical Negro" who has secret mystical potions for self care, and unpicking why that is. Why is it that white folks don't tend to know about how amazing cocoa butter is?
Anyway I got sent a sample in a little tub. I'm hoping as this lube takes off there will be a slightly more secure transportable container (I worry this one might leak in transit?) and my one complaint would be that you have to make sure you don't double dip and get intimate fluids into the tub (which is really an issue with all butter consistency lubes).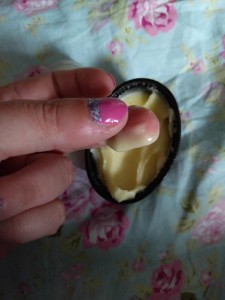 BUT. The lube itself is magical. It's so, so smooth, has a faint but pleasant smell, next to no taste, and it stays slippery for so, so long! I used it for masturbation and it was still slippery and lovely after 45 minutes with a hitachi, and I used it for sex with a sweetie, and it definitely took the sex up a notch from the lube we used the night before. He appreciated the lack of drippiness - the lube stayed where we put it - and I appreciated that it didn't taste funky so we could switch between PIV and oral without a nasty taste ruining the mood.
Now, that said, it isn't condom safe - oils break condoms - but it is fabulous for bareback (which, of course, do responsibly, etc). I expect it would also be an amazing anal lube and jack off cream. The best part is that it had most of the advantages of silicone while also eventually absorbing into my body... and I had one or two little cuts on my labia that were completely healed the next day.
(edited to note: I was made aware that actually non latex polyisoprene condoms like Lifestyle Skyns will have synthetic latex in them, and as such are still a bad idea to use with oil based lubes. Instead, you can use polyurethane condoms like the Trojan Bareskin ones.)
But that's not all. This lube is multipurpose! For traveling this is SUCH a practical formula. You can use it as a makeup remover, as a lotion, as a deep hair conditioner, as a leather conditioner, to take care of beards, to shave, to heal your tattoo... it's really all purpose in a way I really like. Did I also mention that it's vegan, pH balanced, and doesn't feel oily at all? Yeah. "The Butters" is a fucking fantastic lube and I plan to bring it with me everywhere.
AND most importantly? It's under $9 for a cup, which, considering how long this stuff lasts and how little of it you need, will last you a good long time.
Wanna try it for yourself? Order it at LTASEX, and while you're over there, check out the blog!
Thank you Jerome for sending me this in exchange for an honest review. You've directly improved my sex life. <3