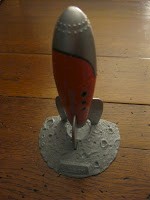 I love the Raygun Gothic Rocketship, and I am super proud that I got to rivet bits of it together. Theres something about the shiny chrome beauty of it, the way it's so retrofuturistic and dreamlike... yeah, it was inspiring to work on.
When I saw Good Vibrations was carrying a little vibrator version of my favourite Burning Man art piece, therefore, I had to have it!
The Retro Pocket Rocket waterproof vibrator is an undercover vibe that's 5" tall. In theory you could use it for penetrative play- I wouldn't personally as it doesn't seem like it'd be the most comfortable thing to use internally. The vibration is pretty strong for a toy of its size, but it's also pretty loud!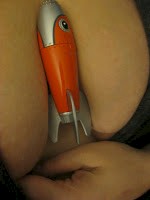 It's powered by a single AA battery, and is incredibly discreet when not in use- who would guess that this is, especially with the base to rest it on? It only has one speed, so you may find it's more of a sci fi novelty than a usual toy. Still, it's pretty adorable, and you could have it out in your house without commentary.
Made of ABS plastic and totally waterproof, the best way to wash this is just good old soap and water, or a toy cleaner/wipe. If you do insert it, don't forget to clean in the seams of the toy, and be wary- since it unscrews to open, and screws to shut, you can pinch yourself using it internally!
The Retro Pocket Rocket would be a great toy for the sci fi geek in your life- it'll look cool on your desk and be handy for blast off. ;) Thank you Good Vibrations for sending me this in exchange for a fair review!