This weekend is Masquerotica, the first epic party for the Halloween season now that the body-fascist, incredibly sexist, doesn't-pay-performers Exotic Erotic is dead (hooray!). I'm really looking forward to the event, as it's got so much stuff going on that I'd want to go even if I wasn't performing! Mutaytor, Fou Fou HA!, the Porn Clown Posse, my Kinky Salon peeps, a sex worker area (yes!), all sorts of good stuff.
I will be going as a princess-y vampire little girl, with a sippy cup filled with blood and cascading blonde curls that I will shake about as I throw tantrums about who I get to eat now. Remember that hot couple from the Spanksticks review, Maggie and Ned from Meet the Mayhems? They'll be there too, as will basically a giant who's who list of the best the Bay Area has to offer.
It's gonna be crazy. Super Burner crowd, too, so while sexy will be there, it's not all that'll be there. AND best of all, costumes are mandatory! That should really help cut down on the frat-boy asshole behaviour. And no, a clown nose is not enough- there will be a Costume Disaster Team to help you purchase the things you need, though, if deemed unworthy. I'm actually really happy about that, because it does cut down on the lookie-loos. So YAY! Street legal, though, guys, so pasties and panties. And it's a second base party (if people are having sex then the ABC will take the permit away and we all go home, so behave). Finally? NO PHOTOS WITHOUT CONSENT. Which also means I will be happy and feel respected. MORE YAY!
If you don't go, you'll regret it, from the sound of things. This is being done by the people who do Sea of Dreams, which is equally epic and around NYE. So buy a ticket already!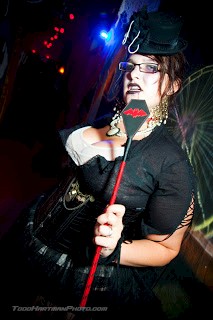 Then, after that I'll be popping by Kinky Salon's XXX Haunted Funhouse on the Friday before Halloween. I fly out to MA the next morning, so come party it up with me and help me stay awake til the wee hours... ;) What to wear to that? I just don't know.
And then I'll be in MA with the boy (at last!). I'm really excited for that, because it's been 5 incredibly long difficult months and I miss him a lot. Also I owe him at least one punch in the chest. It'll be his birthday too (yay! He turns 26!)
I hope to meet up with Princess Kali from Kink Academy (soon to be reviewed on here, btw- and wow, just wow), Holly from Pervocracy (who has just written a piece, "Beyond Not Rape", that's AWESOME), and maybe even do a Safe/Ward workshop... on my own, in Boston. I'll keep you posted on that.
Eeek!