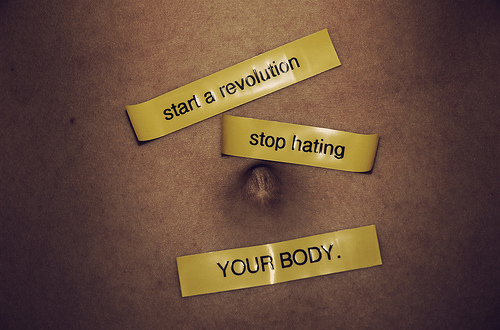 Today is Love Your Body Day, something I think is fantastic. Every day is a good day to love your body, inside and out- and yet generally the focus is not so much on loving your body for you, but rather preening your body for a lover or the world at large.
While pampering is something ladies have long been encouraged to do- bubble baths, spa days, massage, etc- it's generally focused on external appearance. Getting your hair done, a manicure, buying some new clothes. But I live in a bubble where pampering includes buying excellent sex toys, lubricants, and erotica- cause getting off is great for your body in multiple ways!
Sh! Women's Erotic Emporium is one such place out in London. Originally just one little shop in Hoxton, but now with another on Portobello Road, it's a cosy little shop where you can get a cup of tea while you browse. It's a shop where it's ok to flip through the books (they provide comfy chairs, too) and to try on the lingerie (I have a denim corset from there that's awesome and was very reasonably priced). It was the place I went for my lubes and condoms. They also do loads of classes and meetups there, from Cliterature to art exhibitions, from finding your g-spot to book launches- their Facebook pages (Hoxton and Portobello) are good for keeping you updated, as does their Twitter.
I really like that they now offer discounts to members of the sex worker union, and currently they're donating money to a breast cancer charity if you buy certain toys. They also donated clothes and goods to those affected by the London Riots- something I think is pretty right on. In addition, I also really like that Sh! makes their own strap on harnesses and dildos, making it a female-owned, female-run business through and through.
Sh! has kindly offered to let me do a giveaway here on my blog of one of their adorable goodie bags- and yes, they'll send it anywhere, so international entries are allowed! And people not in London can also order Sh!'s harnesses and dildos (among other things) online, so don't you worry.
The goodie bag prize includes: a bottle of Lush Liquid, a bottle of Lush Refresh toy cleaner, a bottle of Lush Touch, a Sh! Bullet, a Lurve Heart vibrating cock ring, a feather and a Sh! Tote Bag.
Here's the rules:
A separate post must be made for each entry! No blobs of text!
Mandatory Entry (Yep, mandatory, meaning yes, you have to):
Tell me about your first experience buying a sex toy :)
Other Ways to Enter (Not mandatory! 1 entry each, please leave a comment (with contact email) per entry):
Tweet about it once a day.

If you tweet, please be sure to leave a comment! It's just easier for me to keep track that way.

Make sure to include @kittystryker and a link to this post.
Ex: Pleasure is Pampering! @kittystryker @shwomenstore are teaming up-a giveaway that'll make you feel good inside and out. http://is.gd/GvYvCn

Tell me what other products at Sh!

that you would love to have (or already have and love).
Post about this contest on your blog, Facebook page, Tumblr once a day… (comment to let me know)
Comment on my other reviews/posts, one comment per post but as many posts as you like (give a link)
Put a link on your blog leading to mine (comment to let me know and provide link)
This contest will go on for one week and one week only! It's a good little kit of stuff, and a great way to support women in business and women taking charge of their sexual exploration. Yay!
This contest ended October 26th at 10pm PST- Lowercase m is the winner! Congrats! Love your body!