So, this is part 2 of the review of sexy anal toys from MyPleasure- part 1 is here.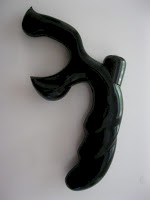 Eventually I had to break the news to my incredibly happy demo bottom that I needed to switch gears to the next toy, the Giger-esque Vibrating Waves. He was not initially convinced, frankly! Doesn't matter, this was a fabulous toy that my demo bottom was so happy with he begged to keep it.
The black silicone is really beautiful if somewhat alien with, again, those weird extra prongs. Those prongs make this a really good anal toy, however, easy to manipulate on yourself or a partner. That second prong will either press against your perineum or, if using as a g-spot vibe, your clit.
It's got about 3 1/2" insertable length, with a 1 1/4" diameter at the widest point, so not too crazy and perfect for anal fucking. In fact, I'd probably use this as a warmup toy for strap on sex.
It kind of comes with an extra toy, too- there's a little bullet vibe that slides into the toy, making it (and your partner) a quivering mess. In fact, the only frustration we had with this toy was the fact we had to hunt all over the flat to find a AA battery!
Again, being made of silicone means that you can clean it by removing the vibe and sticking the rest of the toy in the dishwasher, wiping it down with toy cleaner, or boiling it. Just be sure to use a water based lube- silicone lube will melt the toy and there will be sadness all around.
While the Love Bump was the perfect warmup for an eager boybutt, the Vibrating Waves broke my demo bottom into a drooling brain dead happy pile of boy. I think they're both excellent choices for different reasons and depending on your experience level!
I still have another one toy, the Vibrating Pleasure Probe, that my boy is going to get a taste of when I see him in a week and a half... ;) Seriously, the Intermediate Anal Pleasure Kit is a really good purchase, with the three silicone plugs AND a waterbased lube. It's well worth it.
Again, thanks MyPleasure for the chance to try out some of your toys in exchange for an honest review!