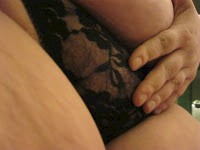 Remote controlled toys can be fun, as I learned with my first one- a vibrator that went off every time a mobile phone around me got a message or a call, which I got as a present for a birthday before going to Asia SF. That was a good time! And I got to try the LELO Lyla recently as well.
One of the things I struggle with, though, is keeping the toy where I want it. Which is where panties made to keep the vibrator right over your clit can come in handy! The Remote Pleasure Panty Brief from Good Vibrations looked cute, so I decided to give them a try.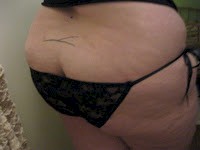 First, I think that these panties are really best for people who are up to a 14-16 dress size. Larger women *can* wear it (it technically goes up to a 52" hip) but I felt like it was going to fall off- cute for in the bedroom or maybe at a play party, but not workable for out of the house! Since the lace bits are one size fits most, you can imagine they'll be a bit more scandalous on someone like me.
These might, however, be fun for someone at a play party (ok, I think the Shortbus idea of buzzing your partner to check in is cute- just don't give the remote away!). My other thought was that this might be really fun for someone with a disability that makes movement and manipulation of a toy difficult, as it will stay where the panties place it and the remote has just one, really easy push button. The remote works up to 75 feet away!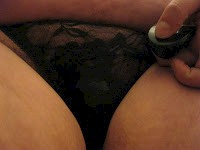 The vibrator part is contoured to fit along your body comfortably, and it succeeds in that. The vibration is milder than I like- a little more on the buzzy side than on the deeper side I prefer, but if you enjoy bullet vibrators or the clitoral bit on a rabbit this is probably just right for you. The panties themselves are really subtle, but you may wanna find a safe place for the vibe and the remote away from prying eyes!
You can machine wash the nylon and spandex lace panties and clean the plastic of the toy with a toy wipe- be careful as this isn't waterproof. Then you're ready to go again! When you receive the toy, a 23AE 12V battery is included for the remote, but you'll need to provide your own two AAA batteries.
All in all, this is a cute toy, and might be awesome for other people, but for me it just didn't quite work out well. But I do think that a girl who enjoys a lighter vibration and has a smaller dress size would love these.
Thanks Good Vibrations for sending me the Remote Pleasure Panty Brief in exchange for an honest review!