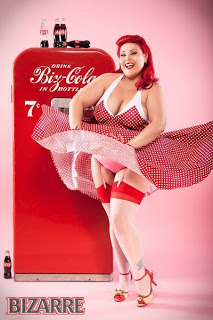 My boy is a big fan of zaftig women, particularly red-haired April Flores- so when I got "Glamazons" to review, I had a feeling he'd be ecstatic. And he was at first- but I can't say this was my favourite porn that I've gotten from Good Vibes.
April is lovely as always, but we were both taken aback that she was the only sexy fat girl on the dvd- for a premise that focuses on how hot curvy girls are, the lack of them was disappointing.
The story goes that "Glamazons" is the artistic rendition of the erotic fantasies of April and her husband, Carlos Batts- I quite liked one scene that had April seducing another woman while the two were sketched live by an artist, I thought that was interesting and pretty sexy. There were moments of April standing aside as a posse of strippers did some incredible tricks- something I admire but don't get off on, personally. And the music was truly dreadful- techno, which meant to watch it the sound had to go waaaay down low.
But god, April Flores is hot. I really like it when she's in vintage-y clothes or allowed to act a bit more than she was in "Glamazons"- one big reason I'm looking forward to checking out "Bordello" eventually, which seems like it'll have some hot queer April Flores awesomeness along with a bunch of other stars I adore.
I think if you're someone who likes a bit of BBW as a novelty in with what is otherwise pretty standard porn fare, you might really enjoy "Glamazons"- I think my boy and I *might* be a bit too queer for it!