I sort of despaired for burlesque in London, to be honest. I'm spoiled rotten in San Francisco, with the Living Dead Girlz and the Hubba Hubba Revue, with such themes as Aslyum, Summer Camp, O Canada!, and the vaguely hillbilly Creepshow Peepshow, where the lovely zombie Girlz coated me in fake blood for the first time. There was even a Jolly Old England one. Hubba Hubba always had amazing, weird, often politically tinted performances that were sexy, entertaining and insanely creative.
Then I came to London, and it was a lot of tits and glitter, fans and feathers, yawn. Yes, the girls were pretty, yes, they took off their clothes gracefully and well, but... it was boring. There was no mad mess like when my friend P-Raw squirted sillystring all over the stage and threw around enough glitter and fake money that the stagehand commented that it looked like a drag queen had exploded on stage. There were (and are) very few hot fat girls doing burlesque. I know some people who are doing interesting stuff, for sure, and am getting to know more, but I still felt a little turned off by most burlesque unless my friends were performing.
Then I found boylesque.
All sorts of boylesque.
Femme boys, butch boys, bears and twinks galore. Oh, it was delicious. And what I loved is that this boylesque thing did two things I liked very much- appropriated what had become a female sexual performance and made it their own, and submitted men to the gaze generally, which I am a huge fan of.
I originally got into this thing in part via Filament magazine, which I encourage any of my readers who like hot men shot for a female gaze to check out. They had a great article on boylesque- men who were taking burlesque tropes and turning them on their heads. And I was hooked.
Recently I went to see the final heat for the Male Tournament of Tease, which was quite fun. I went with H&J, friends of mine from waaaaay back in Massachusetts, and the boy. It was a mixed bag- one boy who had never performed before, poor dear, and three better performers that were hard to judge as to who was the best. There was a puppet strip which was fabulous and funny, there was a Kill Bill tribute, and there was a Billy Elliot themed performance. A couple of the Bears did a Human Centipede performance that was hilarious and sick. "Finally", I thought to myself, "this is what burlesque was like in SF, and what it used to be here- funny, weird, dark, sexy!"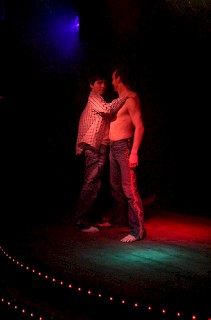 But the boylesque performance that sticks with me, now and always, was Brokeback Disco. Oh, Brokeback Disco, with your gay cowboys and your synchronized de-belting of each other..! How you managed to balance between masculine and camp, silly, sweet, and sexy, I'll never know. But god, do I love watching it. Never mind that the movement of these guys was just stunning- they flowed into and away from each other so incredibly gracefully! It was stunning. I remember clutching LA and TM and going "omgomgomg can we take them home please??" when I saw them perform at the Night of the Senses cabaret.
I cannot possibly capture the hotness, the tenderness, the amazingness that was Brokeback Disco. I will link here to their video and tell you only slightly forcefully to go watch it. It managed to be homoerotic without being crass, which can be a difficult balance sometimes, especially with this sort of performance. Major Suttle-Tease knows his shit.
Convinced you? Want to see some hot male action yourself? Well, Major Suttle-Tease, who is the guy behind Brokeback Disco and who works with other fabulous artists like the Groom (who did the Kill Bill performance) and Billy Thrilliot (also mentioned above) is doing a performance with his troupe, called, delightfully, "More or Lesque!" from the 28th of June to the 17th of July. It's just in Covent Garden, so you really have no excuse to not go. Hot men, being graceful and getting naked. What more could you want? Never mind that Suttle-Tease is just a lovely guy to meet anyway!
I'm going to make an effort to go, for sure, and I'll drag the boy along. Who knows, we were going to have a fourway date with my gentleman caller and TM, so perhaps we can do a show as well... ::grins::
Thank you, boylesque. You've given me hope again.