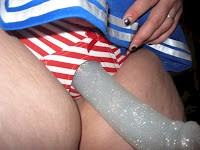 It was months ago that I got the Betty harness and I was so excited about it. But when I tried it on... it was about 3" too small for my hips.
Boo!
I was super disappointed, because this harness is perfect- femme, cute, and machine washable, the perfect counterpart to the Joque. I also loved the smooth pantie-like closure that uses velcro instead of metal or rubber rings to fit your cock, meaning there's nothing stiff to smack into. It's a simple design, certainly, but super sweet.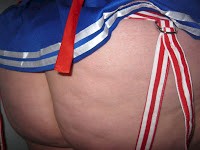 Too bad it didn't fit.
Saddened, I messaged Velvet Nest, the company that made these, to ask if they did any custom harnesses. Imagine my joy and delight when they said yes indeed they did, and they'd be happy to custom make a harness for me for just $25 more (and they kept the pattern in case I reorder!) That means that if you are a femme with hips over 48", you can get a cute harness custom made. Kind of massive, no? My hips are about 50" so you can see how it looks on me.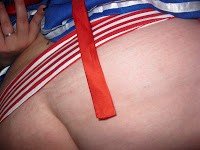 I particularly liked the red and white peppermint striping of the Betty harness, but if black with white polka dots are more your style, the Veronica is also available. The extra small/small fits a 34-38" waist, and the 1x/2x fits 42-48", so knowing you can go custom if you want is really helpful.
The straps are easy to adjust, and you can slide the harness on and off with ease thanks to the buckles. The back strap is just a solid but wide piece of fabric offering some great back support. The whole design is also ideal for wearing under clothing without anyone guessing.
If you're in the market for a vegan or machine washable harness with a femme asthetic, Velvet Nest certainly has you covered and is well worth checking out! Good Vibrations carried the whole set and now only seems to have the Betty in a 1x/2x, so they're pretty popular. Well worth looking into!