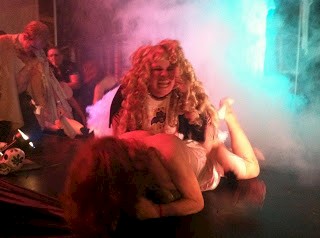 photo by the lovely Katrina!
Every year for the past few years, there's been a giant Halloween themed train wreck that was embarrassingly part of the SF October experience. Dubbed "the EEB" by those who suffered through providing entertainment for the frat boy masses, the Exotic Erotic Ball was, as one Yelper dubbed it, "like the balding bachelor trying to recapture his glory days as a quarterback." It was known for being a body fascist, "people only want to ogle female performer bodies", creepy men and occasional creepy women bypassing boundaries (often drastically) ickfest.
Well, Exotic Erotic used to have wet dreams about being Masquerotica, which came into being after last year's EEB cancelled the day of and didn't refund anyone's money. EEB handed over the crown fairly sheepishly. O.o Buh-bye, EEB, we won't miss you!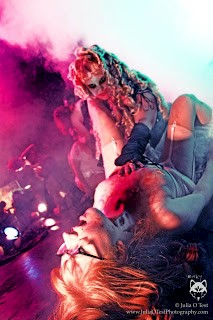 photo by Julia O. Test!
It was epic! The decor was stunning (lots of Tim Burton-esque black and white shapes, crazy glittery flying mannequins), there were tons of things going on all the time to entertain and amuse, and almost everyone who came made an effort to dress up- more than just "sexy ____" women and "comedy ____" men. I was pleased to see hot eye candy of multiple gender identities there.
The music was rockin', and the dance floors were busy. The art gallery had some incredibly stunning pieces on display. The brothello was intimate and entertaining. Zombie strippers escaped from their quarantine. Vampires fed on Jesus. Onlookers were horrified/delighted by the "grope-a-klown" box. And the drumbeats from the camp jungle savages riled the blood. Like I said- epic.
I was one of the performers on the Vampire stage run by Kinky Salon, and it was a lot of fun! I went as a Claudia-esque vampire 5 year old, with a bib, feeding on my teddy bear. Adorable and kind of scary. I had a sexy doll-girl-pet to play with as well, brushing her hair, putting stickers on her face, ripping her neckflesh... awww. Precious!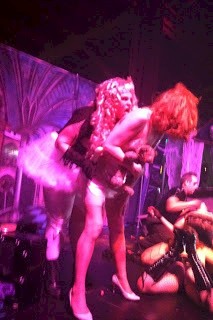 photo by the lovely Katrina!
Hissing at the crowd was fun, too, as was sniffing people as I went from the stage to the performer area. And the blood was delicious.
My only :( was my girlfriend having a dude try to kiss her without asking (ew), a friend of a friend getting dosed (wtf) and I had a guy asking for a photo who then grabbed my tit. That said, I did turn my blood-covered face to him and hissed "ask first!" and he ran off. I think next time I'll just tell security and have them thrown out. Creepy ruins the fun.
BUT most of the people who shot photos were super polite, asking first and being respectful. I got a couple of people's cards for where I can get the images from, which is great! It sucks when loads of people take pics but then I never see them. So yay for documentation! I'll pepper this blog with photos as I have them.
If you missed it, you missed the start of something good.
I'll be there next year... with blood on.