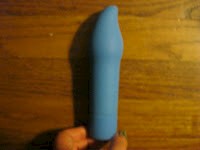 A sleek, modern design is an excellent thing in a sex toy- so many look kind of atrocious, some even downright horrific. Call me spoiled, but I only want pretty toys in my cunt.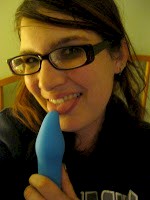 Good Vibrations sent me this adorable, Ikea-looking toy called the Cheeky Toyfriend, and I think it's a good example of a toy that looks playful and fun but also fresh and artsy. It even comes with its own stand so you can show it off! I mean, I can see this sitting on a desk alongside some Kid Robot toys.
The Cheeky Toyfriend is 6" long, and 1 3/4" at the widest point, coated with a blue velvety silicone texture, with a push button on the bottom that takes you through its 5 settings- 2 speeds, 3 pulsation patterns.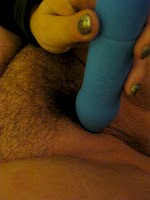 It's a fairly buzzy vibrator, with the ability to get a more pinpointed sensation by using just the tip (yep, I went there). It takes 2 AAA batteries, and is completely waterproof. Because of the shape, I wouldn't use it internally anally, because it doesn't have a flare, but I liked it for g-spot stimulation or for pinpointed vibration on my clit or nipples.
Don't forget to use water based lubes on this toy, not silicone, or you'll damage it! And to clean, use soap and water or a toy cleanser- no dishwasher for this one. ;)
All in all, this is a cute toy, good for discretion, people who go to MOMA, and people who like buzzy vibrations. Thanks for sending the Cheeky Toyfriend my way, Good Vibrations!