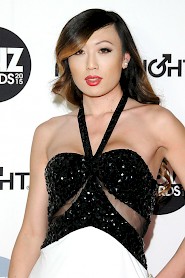 When trans porn superstar Venus Lux posted up a petition asking forXRCO to consider wider genre inclusion in their annual awards, I signed right up. In part, sure, because as a niche performer myself (BBW), I have a cock in this fight, shall we say. In part, because I trust in Venus, who is a performer, producer, winner of multiple industry awards, and a shrewd businesswoman to boot. And in part because I love porn, and I know that it's long past time for us to take a good, hard look at the adult industry through a social and critical lens.

I read this piece asking if the petition was a "narcissistic bark", a fancy way of saying "is it just a cry for attention". While yes, part of the purpose of a petition is to bring attention to an issue, to think that taking a political stance in the world of porn is a career move is absurd, particularly for a performer who already benefits from mainstream acknowledgement. As I don't necessarily expect Elaine Costellano to understand the ins and outs of… well, the ol' in-and-out industry, I wanted to chime in with an alternative view.

I've been in the industry for 6 years now, though I mostly make queer, indie porn. I've been on 8 DVDs. All of them have been reviewed by only 3 people on Xcritic, because there are very, very few reviewers who take on BBW content. In fact, there are only 3, and only 2 of them review it regularly. If it wasn't for Rob Perez, Apache Warrior and Sex Reed? I doubt I'd be nominated for 2 Biggie Awards this year, because no one would have any idea who I was. Reviews are vital for the success of porn companies and performers, but many reviewers aren't interested in covering niche porn… or, at least, they're not willing to cop to fapping to it.

That's the thing. It's not like people aren't watching BBW porn. Ask Pornhub, who put out data specifically about the niche last year. A 47% increase in searches is nothing to sneeze at (which is good, cause you probably have other uses in mind for those tissues!) AVN recently added a BBW category to their awards. Penthouse featured a BBW for the first time ever. Places like Mic.com, Cosmo, and Bustle are talking about the niche. So why are people (men, mostly, let's be honest) so afraid to come forward about something they're obviously buying into?

I agree that part of the issue around recognition by these award shows is getting reviewers to speak up and show up. The main reason I started writing for Xcritic was to address that very real problem, thanks in part to Rob's urging and Don's support. But I realized pretty quickly I needed to take on trans porn as well, because there's also only 3 people reviewing that, and only 2 doing it consistently.

Trans women in the porn industry have had a difficult time of it too. Even though the market has been embraced by big porn companies since the 1990s, AVN only allowed performers to accept their award on stage in 2012 after outcry from trans women. The last AVN Awards saw a gender nonconforming person kicked out of the women's bathroom by Hard Rock security… while the trans performer of the year accepted her award on stage. The hypocrisy is real.

It's not just the award shows, mind. I mean, North Carolina recently passed HB2, a bill banning trans people from using certain bathrooms... yet they're also heavy consumers of trans porn. Sure, XHamster decided to declare it was banning access to the site in North Carolina because of the bill, but that feels hypocritical considering their copious use of slurs to refer to trans people (even if that's in keeping with the industry at large). As genderqueer performer and editor of "Coming Out Like a Porn Star", Jiz Lee,points out on Twitter, "Hey tubesites, want to actually support trans rights? Stop stealing, segregating, and slurring trans porn on your site." More to the point, Chris Lowrence, who lives in North Carolina, pointed out that no, actually, it wasn't blocked after all. Whoops.

Elaine asks where the sponsors come into all this. Now, I don't feel that a company should be expected to buy in to being included in an award show- that seems pretty shady to me. That strategy is certainly a rumor I hear about niche award shows like the TEA Awards and the Biggie Awards - that if you don't work with Grooby you're unlikely to have a chance at the TEAs, and similarly, if you don't work at Plumperpass you'll likely be passed over at the Biggies. I don't have enough data to know whether that's based in fact or not.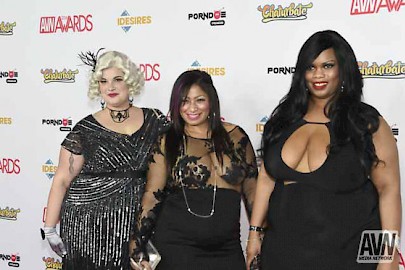 I do know that as award shows have embraced different niches, performers from those niches have been more inclined to buy a booth, sign at other booths, perform, and otherwise participate in AVN. Sponsoring companies aren't going to bother giving money to an award show that won't even notice their performers. I believe it's in the best interest of these award shows to demonstrate that there is a place for trans and BBW performers in order to attract that patronage.

One of the things that came up in the discussion was why have a separate category? Trans women and BBWs can be nominated for female performer of the year, after all. In response, I would look towards the ways in which racism also impacts porn award shows. While yes, Blacked.com (a site specializing in interracial porn) had 15 nominations and took home 11 of them, 5 of those identified their work as "ethnic", "interracial" or "niche/specialty".

The ways in which the industry has begun to recognize interracial porn as not "taboo" gives me some hope for BBW and trans porn. I feel as society shifts, so does porn, and as porn drops slurs and normalizes sexual behaviour, society is encouraged to follow suit. While I do not believe porn SHOULD be educational, I do believe we have a responsibility to acknowledge how, in a country that lacks comprehensive sex ed, porn often stands in as the first place we learn about sex. When Elaine asks how this petition could possibly be about ethics, I can only respond - when it's about the politics of representation, especially as it pertains to sex and the workplace, how can it not be about ethics?

We need to recognize the ways in which porn legitimizes some while casting aside others, and begin to address that disparity... before anti-porn activists do it for us. Part of that means we need to be on our game, doing our research, and citing our information. Before we dismiss criticisms coming from successful members of the industry, let's do our due diligence.

I think that it's long past time for the porn industry, from reviewers to consumers to producers to performers, to embrace the diversity of talent that has allowed it to survive and thrive over the last 10 years. Porn is no longer some secret, shady industry, but is increasingly acknowledging it is, among other things, a legit workplace. This means acknowledging *all* its workers! Just as fashion modeling is expanding with the times, so should porn. I love being a part of this industry, as a consumer and as a performer/producer, and because I love it, I want to see it evolve and continue to get better. And we all need to be in this together.

What can you do?
-Become a reviewer of niche porn at Xcritic or other spaces! You can be as real as you like in your reviews (see mine as an example) and you'll get loads of porn to watch. Whether you have a hand down your pants or you're getting your academia on, we need more reviewers.
-Pay for your porn, helping your fave companies demonstrate the desire and market for their products
-Sponsor or help sponsor smaller niche companies having a presence at award shows
-Sign (and share!) petitions about changes in the industry you support, especially when spearheaded by the performers themselves
Happy fapping!