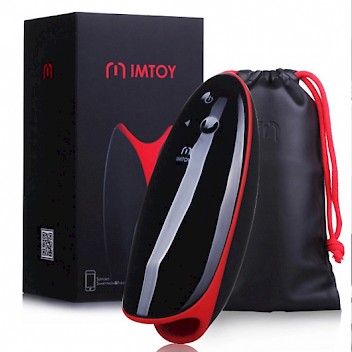 I was offered the chance to review the IMTOY Piu, which is always fun because it means I have to then encourage my lovers with penises to let me watch them masturbate while I sit there and take notes on a clipboard. As someone who has a complex relationship to my libido, this can be a fun way for us to have a sexual interaction without the pressure of having to perform. Also I kind of dig medical play and watching people do sexual things, so, it's got some perks, doing toy reviews for penises.
I called in my cis male lover C and my trans girlfriend J to put their dicks into this toy for Science. Don't worry, I washed and sterilized it in between. That's only respectful, after all.
I want to break this down into two parts- part one will be for the app that the toy interacts with, and part two for the toy itself.
PART ONE: THE APP
First I brought this over to C's house when we had a date. I figured we could connect the app really quickly, watch some porn together and jerk off, and snuggle afterwards, a nice way to spend a rainy afternoon.
That is not how this went.
We probably spent a good 45 minutes to an hour trying to get the toy to connect to the phone. We had to log in multiple times, as well, which made the process even more frustrating. But I was determined to see the porn that was promised that worked alongside the toy, something that sounded really cool to me after I heard about the Realtouch. This seemed like a sleeker version of that idea, and I wanted to know if it worked.
After about 45 minutes and a beer, we finally got the app to connect to the toy and started going through the porn. We were startled to discover... it was all pixelated. And contrary to what I was led to believe, we didn't have free access to a video library... we had 1000 credits to spend on what's available, which is mostly Asian porn (fair enough) and is all pixelated even after purchase (really??) It also lists categories with nothing in it... like, for example, there is a category for Black performers, but we didn't see much in it. You can upload your own porn, which is a nice feature, but I wonder if it would interact with it well or if you'd basically have to program it yourself to get a good wank.
Our credit allowance went towards two clips, which were decently shot, well lit, and had some great communication- I mean, the scenes were certainly decent quality porn! But the censorship was distracting and frankly it didn't seem like the toy really corresponded with the porn in any real way. It seemed like a good idea that needed to go back and try again, with an expanded video library that actually shows you genitals and more communication between the visuals and the stimulation.
J didn't try to use the app at all. Her patience wore out after about 5 minutes of trying.
PART TWO: THE TOY
It's beautifully packaged. Like, it comes in a box that has a tiny drawer that contains the instructions and the power cord. It's already presented in such a way that it would make an excellent gift. In fact, that was the thing J loved the most about it, saying, "The box with drawers is tasteful and gives masturbating with a cock an air of class and indulgence, which AMAB people need space to have." I think C liked it too, though maybe liked it a bit less because I made him put everything back the way he found it so J could have the same unwrapping experience.
Unfortunately, it was just too shallow for either of my lovers to really enjoy the experience. C, who is a deep throat kinda guy, found himself bashing the head of his cock at the back of the toy. Considering he's more of a shaft stimulation sort, I thought J might have a better time with it, as she prefers the sensation of a hitachi and she doesn't have as large of a cock. Well... she described it as the worst kind of tease and denial scene, in part because the off switch was right where her hand comfortably settled to hold the toy. "I found myself just wishing it was a hitachi", she said mournfully.
I feel like this might be a great toy if you are smaller than average and really enjoy sensation on the head of your cock. You might even get some nice suction out of it. As a whole, though, this needed to be able to be longer and have the ability to be clenched tighter for my lovers to really enjoy it.
Thank you, IMTOY, for sending me the Piu in exchange for an honest review!