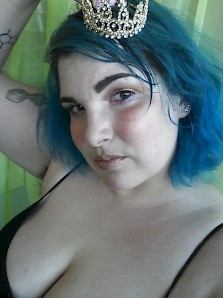 I'm a glitter fiend. If you were seeking out a way to summon me, you would probably draw a pentagram on the ground in multicloured glitter. It's probably good that I'm in a relationship with a femme guy who loves metallics as much as I do and doesn't get too upset when his beard/chest/pubes are filled with glittery accessories.
So as I was looking for indie cosmetics to review, of course I gravitated towards Lit Cosmetics, which specializes in multiple sizes and many shades of glitter. So many colours and sizes! It's heaven to browse all the various shades of blue and green. I mean, I've been using chapstick and craft glitter, which gets in my eyes, sure, but looks great. Lit Cosmetics offers not only glitter that won't be painful to use, but a specially formulated adhesive that turns the glitter into a super easy to manipulate and use product.
I'm not particularly graceful, but I found the process of dipping the round brush into the adhesive, then into the glitter, then lining my eyes with it to be a breeze. I only had to do it once, and it stuck on beautifully. Most of the examples I've seen involve the eyes and face with the glitter, but I lined my lips with it for some photos and really loved how it looks. I also appreciated that the glitter base helps keep the rest of the eyeshadow I used looking fresh and solid for hours.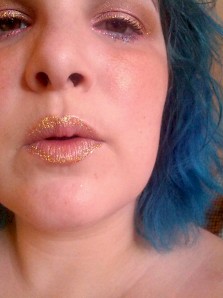 Because I'm doing a giveaway of a Lit Kit with the Clearly Liquid Glitter Base and the "Rich & Famous" glitter in size 2, I wanted to wear it myself in these photos to show how it looks in two different applications. I used "Rich & Famous" size 2 solid over my lid, and "Hunny Bunny" in a size 2 shimmer under my eye. I also used "Rich & Famous" around my lips as a lipliner, with a gloss from Fierce Magenta as a filler.
Shimmers are translucent, metallics are extra shiny, solids are solid colour. Electrics, which I want to get next, will glow under black light! As for the sizes, 1 is the smallest, and 4 s the largest (like a disco ball). The larger the glitter the more prominent the look. I'd likely wear size 2 on a day to day basis, and pull out 3 or 4 for a party setting. They come in cute stackable containers with extra lids in case you don't want to stack them. Apparently one small Clearly Liquid jar will likely last 4-6 months, while the glitter will last 2-5 years depending on how often you use it, if you spill it, etc. A little goes a VERY long way, especially as you aren't wasting glitter by having it spill all over your cheeks.
It's recommended to really make these glitters shine that you wear a dark shadow under dark colours, and white under light colours so they really pop. You can apply them as a full eyeshadow (and I had no issues switching colours, personally) or as just a liner, depending on the look you're going for. It's made in Canada by a woman who loves glitter a whole lot, and I'm glad for it. This is going to be a regular item for me, I can already tell.
I bought a couple of glitters to try and Lit Cosmetics was kind enough to not only send me more colours and sizes to check out, but also a little giveaway item to gift to a lucky winner! Check back on Sunday for entry details - patrons get a sneak peek and extra entries, if you want to up your chances! I have two different lighting styles on here, warm and cool, so you can get a feel for how they look under both circumstances. Highly recommended!
Lit Cosmetics can be found at Sephora or bought online for a lot more variety.

Contest is over! Congrats Katie!