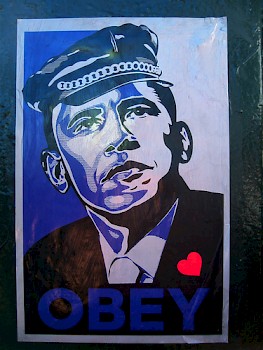 I remember the first time I went to Folsom Street Fair. I volunteered with the Center For Sex and Culture, bright eyed newbie wanting to help out her community. I ended up on a bicycle, pedaling to power the fucking machine that was going to town on Sadie Lune for a money-raising peep show. "When in San Francisco", I figured, and kept pedaling. I walked the streets and saw blowjobs next to bondage scenes next to piss play next to PIV fucking next to floggings, and I thought I was, at last, home.
When I first met San Francisco, fucking in the street was shrugged off more, with few making it a problem even during regular weekends, never mind special events like Pride or Folsom. Kink.com did shoots on the sidewalks, from what I recall. God knows I got frisky in the bushes by the Sutro Baths, in the back of a pickup truck on Twin Peaks, lead a lover around on a leash when going to Starbucks.
Slowly that's becoming less and less true of the San Francisco I know now. Public nudity is illegal. Our leather pride events allow us to be violent, but not sexual, in public. Our unionized peep show is gone. Multiple sex positive spaces have been shut down, pushed out by gentrification, or defunded by a lack of arts funding. The San Francisco Bay Guardian, a newspaper that provided a voice to sex workers, BDSM community members who had dealt with abuse, and other folks on the sexual margins, is shutting down. Good Vibrations has gone corporate and pink.
If you left your heart in San Francisco, I hope you bought, not rented.
We came to San Francisco, so many of us, because that was where queer people were accepted, where perverts could find each other, where porn performers could find work if they didn't get along with LA. But we certainly made a mistake in complacency when we got here, because all the things we came here for are being taken away. We didn't protect them, and now they're gone.
I have learned shame, and anxiety, around my sexuality over the past few years. I had unlearned it while treading the sticky floors of the Power Exchange, while performing in live sex shows covered in cupcake frosting and greasepaint, while having giggling sex over picnic tables in the park. But as I begin to worry about the environment, which once seemed so welcoming to a bit of public hanky panky, I find my fear outweighs my desire. I want my lover to grope me in public like in the good old days, but am afraid of the comments and possible consequences in a way I wasn't before.
Perhaps this is growing up, I think to myself. Maybe nothing has really changed, and i'm just less carefree than I was. I notice other people now in ways I didn't before, and am more self-conscious about how we humans bang up against each other day to day. But I also think that things are actually changing, as money moves into SF and the artists move out. I've watched friends I held dear move into fancy apartments with wealthy lovers and suddenly shed their social justice skins. I can't blame them, not really- perhaps if I had a wealthy lover I would do the same, and forget about solidarity in the face of a room with a view.
This is how we sell out, but who can blame us? So many former sexual revolutionaries are raising children, and sometimes, suddenly their behaviour is recontextualized. So many activists are being physically and professionally harassed into giving up and giving in. As a culture, what was one the flavour of a neighborhood begins to feel like a threat when we have stuff to protect. And hedonism is exhausting, fighting the system is thankless, and capitalism is king whether we're poor or actually scraping by. I get it. Who wouldn't give up the struggle for a bathroom with hot running water and a bed that doesn't leave your body aching? As we get older these things mean more, and they're real. Idealism is nice but it doesn't pay the rent.
Don't get me wrong. i'm not one of those people who thinks that kinky people are severely oppressed and we should be allowed to wear our collars and leashes to our jobs. I just miss the days when I could get tied to a post in SoMa one day a year and squirt all over myself without getting arrested for indecent conduct. It gave me a place to be publicly perverted, and now... now that's gone. That sucks, and I think it's a tragedy.
And so, the boner died in San Francisco, or maybe we traded it for trendy coffeeshops and boutique cupcakes. I can't even really tell if I miss it, or if I've given up too, ready to take my poly cabal and move to a new city, to populate it with my kind of freaks and create that safety for queers such as ourselves. My heart is a little broken, but it will heal, as it did for London before it. Like any relationship, it's important to recognize when you've grown apart and to move on.