Christmas!
I love Christmas. And it seems somehow fitting that my 300th post would be one in which I discuss how my holiday went.
First, the boy and I went to Wicked Grounds formal holiday dinner- I came as a patron, and he was one of the sexy servers. The only boy server, actually, which made me proud. We had an amazing meal, really lovely and filling and heartwarming, and I loved watching him hustle about getting orders and serving the meal. I was delighted when Midori mentioned how he had done a good job, because it was his first time serving publicly and service is more my kink than his (that said, as I write this he's tidying up the bedroom and doing laundry. I have such an amazing boy).
I was so proud, in fact, and turned on, that I was pretty wet when I got home. So I told him to strip and lie on the bed. I cuffed his hands with the sutra cuffs, and kissed his chest, nibbled at his nipples and ran my fingers down his sides. His cock hardened significantly- he's always hard when I touch him, but tonight he was straining. I smiled and opened my mouth to take him in. I don't suck cock terribly often, but tonight I craved feeling him in my mouth and writhing under me. I wanted him to feel rewarded for his service by doing something just for him- and he was surprised and, I think, excited to receive the attention.
I got mine too, don't worry- once I released him he was all hands, making me squirt. Yum. ;)
Anyway. After that, I suddenly felt really... nurturing. So I told him to get into his Batman onesie so I could read him a bedtime story. He hesitated, visibly worried that if he got too excited I might change my mind. But I really wanted to take care of him. I think it's because he spent hours doing something I love, something that really turns me on, and I wanted him to know how proud of him I was. So I nodded, and helped him into his onesie, and he snuggled into me for a story.
Granted, neither of us was sleepy, after that, and there may've been some naughty Mommy/boy play, which was surprisingly enjoyable for us both. I wonder if it's the diapers in particular that trigger me, as he didn't have any and so we did without. It'll take more experimenting I'm sure. I expect it also helps that I initiated it!
Anyway. Christmas Eve was spent with chosen family, eating Mexican food and drinking sangria. It's not been a part of my holiday tradition normally, but I may need to change that! Tamales for Christmas Eve is nommy. We still had the traditional clam chowder, too, but guac and cheese dip.... oh yes. The boy let me open one of my presents early so I could go in my new cat kigu- with my boots on, I was Puss in Boots, hee hee! Plus it was just really nice to see a bunch of my friends Christmas Eve. On the way home we drove around a bit to admire a huge area of lumieres lit up- so pretty.
Then Christmas Day we woke up at 6am or something- we're both like giant kids so we opened our stockings all bleary-eyed and cranky. In between stockings and tree presents, the boy went to trim his beard and ended up accidentally shaving it off, much to my dismay. I was kind of upset- I find the beard really suits and makes him very hot- and he was upset and we had a bit of a spat, but that resolved and we moved on to the more pleasant opening of gifts.
The things I'm really excited about is the Octopussy and the Understudy kit so I can mold a dildo with the boy's cock- yay! I also love the bat kigu my grandmother got me from Bunnywarez, and this scarf with a happy and a sad cloud on it, and dirt-scented perfume, and all sorts of fun little things. I will say- bacon jelly beans are a fun novelty but a terrible flavour!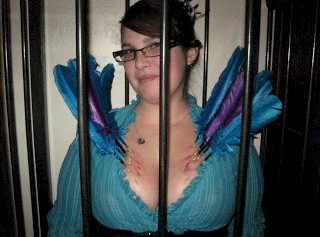 After the presents, we went over to Wicked Grounds for snacks, coffee, games and piercing. Thanks to Bad Mouse M, I was made into a pretty bird- I loved having feathers decorating me! I can't wait to do more with wings and decorations. There's more photos of this on my fetlife profile. But it was very very fun. I love needleplay.
Then we went to the House of Yay for Christmas dinner- ham, and salmon, and crusty bread with spinach dip, and all sorts of cookies and cake and pie. Yummy! We filled up, chatted with people, and indulged in the white elephant present exchange- I got a pill cutter (?) and the boy got a Japanese South Park dvd set. Interesting... it's always fun though, I enjoy the mystery and the gift exchanging.
So that was Christmas! We spent Boxing Day resting in kigus and watching TV after having brunch with a lover of mine. I'm ready to sleep for a couple of days.