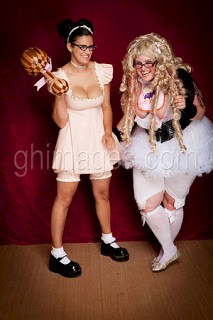 I've gotten a little collection of Halloween sex toys and costumed porn going on at this point, from "Pirates" to "Batman XXX", from alien vibrators to scorpion bullet vibes (and let me tell you, even KNOWING the vibe was in there, I opened the box and shrieked when the toy jiggled in such a realistic way!) I love this holiday more than any other.
Well, Good Vibrations has a whole Halloween guide ready, whether you want to dress up and go out, or dress up to stay in.
Personally? I recommend the Incoqnito necktie, which the boy and I love for sneaky mischief! Or have your own midnight showing of the "Rocki Whore Picture Show"...
Happy Halloween!
Photo courtesy of Ghimages and Masquerotica