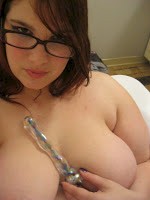 Glass toys are quickly becoming a thing for me, mainly because they're just so elegant and pretty, sometimes transparent, sometimes opalescent, always smooth and stylish. The Icicles collection has some lovely pieces- I love #24- and today I was excited to try out #8, the glass wand, from Erotic Toy Town.
Made of opalescent glass with a blue helix in the middle, this is a really, really lovely toy. Opening it up I was struck by how it gleamed in the padded packaging! I only wish it had some with a velvet bag for protecting it from chipping. It's like a mermaid's plaything- so of course I had to take it into the bath.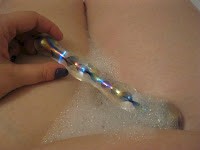 The thing that first really struck me about this toy is the weight of it- not too heavy, but just enough to give it some substance. The Icicle #8 has one bigger, bulb-like side that you can hold onto, and the other side is smaller. There's no reason you couldn't use the arger bulb internally, of course! It's 7" long, with about 6" insertable length, and is ideal for vaginal play (you could use it anally, but have a good grip on it because it could still slip in). Don't forget that glass can be heated up or cooled down, making it a fun sensation toy!
Because this is glass, it's sterilizable with soap and water or toy cleaners. I wouldn't boil it simply because there's a) no need and b) some possibility that the opalescent stuff is a paint on the glass versus what the glass looks like. For storing this, do consider keeping the styrofoam padding it comes with. The box is ugly but the styrofoam will keep your toy safe. Alternatively, you can get padded bags to protect your glass pieces.
If you're looking for a gorgeous and not terribly expensive foray into glass sex toys, the Icicles #8 is on sale now at Erotic Toy Town- go check it out! Thanks ETT for sending me this toy in exchange for an honest and fair review.