With the boy in London and me here in SF, I wasn't sure when and why I would have the opportunity to try body chocolate from Babeland, but after my experience trying to eat chocolate scented body cream, I think they felt bad for me and sent me edible stuff. :)
But when the pup's away the Kitty will play... and I realized I was going to be shooting at Crash Pad, something I had wanted to do for a year, and thought "aha! What a great time to play with some body chocolate!" especially as my co-star, Mendhi Henna, loves food play and body painting. Ideal, right?
Silly me, I didn't think about the fact it might look like poo on camera. Whoops!
When I realized I made sure the video camera caught me dipping my finger into the pot of body chocolate. Just in case.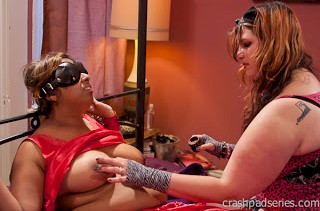 The body chocolate was initially a bit firm and solid, making it hard to spread on Mendhi's skin. After a few swipes of my finger, however, it was smooth and slick and fun to draw little pictures with. I loved making chocolate patterns on her breasts, tummy and thighs, following my little trails with my tongue. How feline! She seemed to enjoy it too, writhing and moaning as I went.
I did end up letting her have a taste of the body chocolate, which I thought was awfully generous as it was really tasty! It was a darker chocolate, which was nice because I like real chocolate, not Hershey syrup. And this was real chocolate- vegan, organic, free trade and delicious.
Because of that it might solidify on you- heat helps, so you can put the little jar into some warm water ad it'll become easy to use in no time. This body chocolate has an 18 month shelf life, though I doubt it'll last that long!
It does have coconut oil in it, so if you don't like or are allergic to coconut this isn't for you. However, if, like me, you love coconut, it's just that bit more delicious!
Mmm. Isn't it time for dessert...?
Thanks Babeland for letting me try the edible body chocolate in exchange for a fair review, and Crash Pad for amazing photos. Check out more over on their site- Season 15, episode 104!