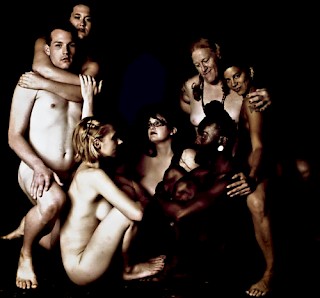 I was in San Francisco picking up nothing more exciting than a bag filled with a My Little Pony themed scarf I'm knitting for the boy when I figured I'd pop by the SSEX BBOX premiere. Held at the Center for Sex and Culture, it was a full house and a fabulous experience, giving us all a chance to watch two episodes of the SSEX BBOX documentary series. With voices from San Francisco, Sao Paolo, Barcelona and Berlin, it was really inspiring to see diversity reflected on the screen.
"We're very lucky to have a lot of dialogue about sex, but we're aware in the Bay Area that it's not the norm," one speaker, Therese Noël Allen, MA, MFT, said. "Sexual education is often anatomical, heteronormative. SSEX BBOX creates a platform to normalize as well as bring awareness about what's out there". This particular pair of films focused on sexual shame and our relationship to sexuality, both as children and as adults.
Some of the things said really stuck with me- I'll give a few examples-
"It's no longer about male or female- I want to have sex with gods!"
"Rather than look someone in the eye and say 'You're really attractive and I want to have sex with you', we flirt, we're indirect- what if we could put our sexual desires out on the table like we do our food desires?"
"Let's move beyond sex as a stigma or as a celebration to a place where sex just exists."
"We were all kids with sexualities, but it's taboo to talk about kids having sexuality."
"How can we expect kids to treat sex as natural if, when they catch us doing it, we react with shame and fear?"
"There's this idea that sex destroys innocence- we pass this shame along, because it's easier than healing our own trauma about sex and guilt."
I unfortunately didn't get a chance to catch the names of everyone who spoke, but you can watch some of the video clips on Vimeo, with more updates all the time. Here's episode 1 in English- it's also up in Portuguese:
[SSEX BBOX] EPISODE #1 (English) from SSEX BBOX on Vimeo.
And you can follow SSEX BBOX on Facebook, Twitter and Tumblr- I recommend you do so and see what they get up to next!