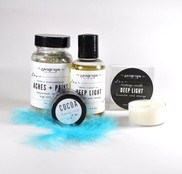 I'm not the most femme of the femmes. I'm new to skin care. I never used moisturizers, and even struggle to remember sunblock on a regular basis (I remember when it means I'm getting it rubbed into my skin by a babe, but otherwise, eh). Still, I've started to use lotions and such on my skin instead of ignoring it, and, fancy that, my skin is loving the TLC!
I am in love with my Seagrape Soap products, particularly the rose serum. And it's a requited love, judging by my skin's reaction to being massaged with rose serum on a daily basis for the past month. I don't have particularly oily or dry skin, just the occasional breakout- and the rose serum has made me skin feel glorious and soft without drying me out or making me feel greasy. Also it smells lovely! I've been using it when I wake up, especially as my makeup glides over it easily. It takes very little to get full coverage and feels pampering while also not taking a lot of time.
While the rose serum was my runaway favourite of the products I received from Seagrape Soap for review, I also got some massage candles (Dark & Sexy and Exotic Fields), a lip tint in Bad Girl, a solid shampoo bar in Tea Tree Lavender, and their Sexy Travel kit, which includes a massage candle (Deep Light), a cocoa honey dust, a bath soak (Aches & Pains), and a massage oil (also Deep Light). The only thing I haven't gotten to try yet is the bath soak, but it smells herbally and divine. I love earthy, green smells and this totally hits the mark.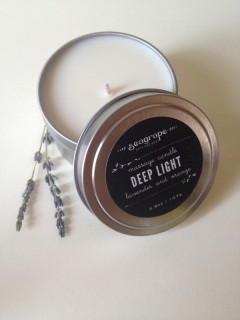 The massage candles come in such incredible scents. As someone who can find vanilla cloying and lavender sleepy, I found the scents Seagrape Soap has created to be refreshing- the spiciness of Dark & Sexy, the freshness of Exotic Fields, and the tanginess of Deep Light are all pleasant, gender neutral, and harmonious. I also liked the way they melted into some really nice massage oil. And the travel sizes helps make these the kind of thing you can have in your purse "just in case", taking up the same space as a potted lip balm. Similarly the massage oil has a lovely scent and soaks into the skin beautifully, leaving you not feeling overly greasy or needing to reach for the bottle over and over again.
The cocoa honey dust falls into that realm of products that I often giggle at. I remember being a teenager and seeing the Kama Sutra branded edible dusts, which always tasted very much like flavoured dust. Why would one need a persuasion to lick their lover? But I know that I'm pretty adventurous and really into sweat, so I can see that for other people this would be a nice alternative. This one has a dryness to it, but it's not overly sweet, which I appreciated. If I want a sugar rush midsex I'd likely just use pixy stix, you know? Instead this is fun to sprinkle a bit on, lick it off, and, well, keep licking, which is the point of such things. As a foreplay item, it's pretty good. Keep in mind though that this tastes like cocoa, and not chocolate, or you'll be surprised!
I hadn't tried solid shampoo before and was curious. I didn't find that it lathered as much as I'm used to, but it didn't matter- this shampoo bar definitely did what it says on the tin. My hair felt healthy and light after use, really silky and nice to touch. You can also use it to shave and as a face soap, which I found I also liked it a lot for. If you want a solid option instead of Dr. Bronners, this may well hit all your marks. I don't have a dry scalp so I can't speak to how well it manages that, but it certainly made my hair feel luxurious.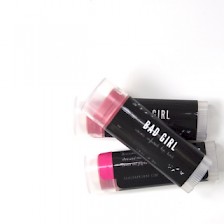 Finally, there was the lip tint, a bright pink colour they called "Bad Girl". It's cute, and provides a very light colour, but as I tend to go for bolder looks I suspect this one will sit in my purse for when I want a more natural look. It glides on really nicely, and has a light amount of glossy finish- I just personally am more of a lurid colours kind of girl (as anyone on my Instagram may suspect)! If you like Burt's Bees, you'll love this.
All in all I would definitely use more of Seagrape's products. I'm curious to have Phil try out the shaving set, actually! The scents really did it for me, and I think a couple of them would make incredible scented moustache wax. Hey Seagrape Soap! Make moustache wax! :D
Thank you Seagrape Soap for providing me with these products in exchange for an honest and fair review (as well as giving me a chance to pamper myself!)