I'm always looking for excellent toys at reasonable prices. I'm a recession Domme, after all, and quality BDSM supplies at prices that don't make kinky sex some sort of bourgeois luxury are important!
I remembered a very long time ago getting my eager hands on some beautiful toys from Madame Giggles Whack Shack, and looked her up- to my delight, she's still going strong with some lovely toys, including one of my particular favourites- the bunny singletail!
So Madame Giggles sent me three toys to review for you guys, and while my ex boyfriend from high school was around for Folsom (he's a big leather daddy now, of course) I tried these toys on him. Thanks!
First up is a stinger made of moose leather. It's soft, but not as stingy or heavy as buffalo hide. The handle is leather wrapped wood and is about 9.5" long, and the leather tail is around 20" long. I also really liked that there's a ribbon loop on the end to easily attach it to a toy belt or hang it up.
It's got a bite like a slightly gentler singletail. You can flick your wrist and get a nice snap out of it! I like that I can get some nice, pinpointed sting but that it's short enough to feel ok using it in a semi-crowded dungeon. This toy goes for $30.
Then I tried out the moose flogger, which was a great shape and weight for a medium thuddy flogging. It's got a thicker 8" handle, also wrapped in leather, and 12 14" falls. The sound when this hits is lovely, a good thwacking sound.
I think this would make a really great first flogger, especially as it's got such a good weight to it. And I don't just mean for a submissive's first flogger to experience- I think that the length and weight of this makes it a good bet for a Dominant's first flogger as well, as it's easy to control and has a strong impact without being too fierce.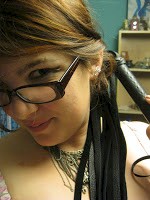 This toy is $45, and it's frankly a steal at that price. I have seen floggers not nearly as nice for double the cost! You could get a matched set for the cost of one flogger other places. Well worth it if you ask me!
These are both fabulously made toys, for sure, and I really love Madame Giggles' workmanship on her toys. They're not only beautiful, but they're sturdy. These are toys you'll have for a long time, and at prices that someone new to kink or who has to be careful with their finances can feel really good about.
But these aren't the things that really drew me to her shop, or that had made an impact for all these years.
No, for that, it was her Killer Bunnies.
I've had other bunny floggers in the past- in fact I believe One Hot Crumpet has my old bunny flogger!- but I'm a sadist, and the bunny floggers are super sensual and not very harsh. They're usually made with strips of bunny fur so they're soft and pleasant, good for soothing the skin before or after a scene.
The Killer Bunnies, however, are fan-fucking-tastic. They're individually weighted and sewn together to make a heavier tail creepily similar to a cat's tail. It's a little weird and yet really cool!
And they have some fucking punch to them. You'll feel it between your fingers and say "aww, that feels nice" and then you'll get smacked with it and feel like you've been punched by the fuzziest kitten in the world.
You can get the Killer Bunnies as a singletail (pictured is a 20" tail with a 9 1/2" leather covered handle) or as a flogger. I'm really hoping to get a flogger one of these days, cause the singletail is awesome! This toy costs $100, which is an amazing deal for a singletail anyway.
Particularly cool in my opinion is that Madame Giggles does custom work if you want something particular or in certain colours, and also that she sews a little flogger/singletail condom to cover the tails of your toys! I love this because it means that you can use it as an extra cover over your toy that you can put in the washing machine, and because it makes sure they stay pristine in storage. She just sends them to you that way, which I think it really considerate and cool.
Also, and maybe my favourite part- she has a warranty on her toys that's really good:

"I stand behind my work. Any toy you buy from me comes with a two year warranty against defects in workmanship. If it busts because I didn't put it together well enough, I will repair it or replace it. If I can't repair it to like-new condition (and I'll be as picky about that as you would be), I will replace it. If I can't replace it with an identical item, I will replace it with an item of your choosing of the same price. I will also pay for shipping both ways."
So you know you're making an investment!
I can't wait to give these toys a bit more of a spin, and I can't recommend Madame Giggles Whack Shack enough. She's great with communication, makes great toys, and offers excellent service. What more could you want from a kinky toy craftster?