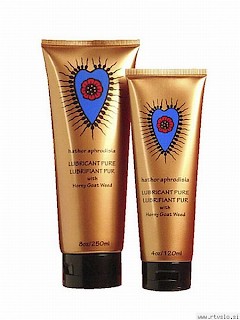 First of all, the boy owes me a new bottle of this Hathor Aphrodisia stuff we got from the awesome folks at Babeland.
Hear that, mister?
Cause we used an awful lot of it when we had our adventure with the Joque harness and the Mark dildo. Because this is a fucking fantastic lube. I have so many reasons why, but let's start at the beginning.
It's all natural. And vegan. That's a good start. No irritating scents, no glycerin, no parabens- so it's a great lubricant if you're sensitive to any of the above. It's made by a mother/daughter team who really care about sexual well-being, organic ingredients, and sustainable agriculture. Ecosexual awesomeness!
It's not a super thick lube, but also not super thin- we found it to be equally good for vaginal penetration as it was for anal. It has a slight bitter taste, though, so you might not want to use it if you're hankering for oral sex after. There's not really any scent to speak of, and it's water based, so condom and silicone safe. It has horny goat weed in it, which is said to be an aphrodisiac- I can't speak on whether or not it works independently, as I had gotten to fuck the boy's ass and so was pretty wet when we were reviewing it. It's a hard life, truly.
I love this lube. It's quickly become one of my favourites, though the flip top bottle is a little annoying. The annoyance is by far outweighed by the fact that it's not irritating to even the most sensitive play partner's bits, and the fact that it lasts forever while still being water based. The only reason we used so much of it was because the boy was nervous and wanted a lube enema basically- a little bit will go a long way (which is good, as it's kind of pricey). I've tried a good number of lubes now and this one is tops.
Try Hathor Aprodisia out for yourself at Babeland! Only a couple days left to take advantage of their March Madness offer, too.