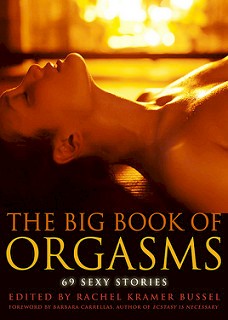 When going on a trip, I like short stories. I can pick them up and put them down as I go, drop into a nap and wake up and read a bit more without worrying about losing the plot. Additionally, I like having something sexy I can read to a lover while I'm far away- nothing like hot bedtime stories so we can enjoy a bit of heavy breathing before sleeping apart!
"The Big Book of Orgasms" edited by Rachel Kramer Bussel works really well for both of these purposes, because there's 351 pages and 69 stories. Each one contains on average about ten to fifteen minutes of toe-curling loveliness and lust if you're reading them aloud. There's stories expressing queer desires and straight ones, a bit of kinky play and passion between vanilla people, long term relationships and quick and dirty flings. Orgasms range the gamut. Really, I could see using this book to mark off "here's some things that sound hot, read them, and then let's try them" when with a new partner, because there's enough variety to make it useful.
The authors, too, range from well-known (Cecilia Tan, Virgie Tovar, Sinclair Sexsmith) to people who have never submitted to an anthology before. Because of this there are some new treats to discover, new frameworks to indulge in. I think this is one of Bussel's best!
There's a few upcoming live workshops and readings- tonight, November 6th at 6:30pm, there's a live reading at Good Vibrations on Polk, and November 12th there's an Erotica 101 class in Alberquerque at Self Serve.
Even better, and there's a virtual blog tour for those who can't make it to the in-person events (I'm writing today when the blog tour features Sinclair and Sugar Butch Chronicles).
Check it out and let me know what you think!