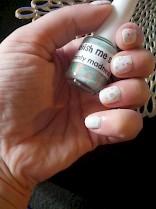 As a femme who has a bit of a Thing for makeup, I've decided I want to start doing little minireviews of various indie makeup/nail polishes I've picked up so the rest of you can check them out. On Fridays, keep an eye on this blog for a new review of something I've picked up, along with a couple of photos showing it off in practice.
Today, to start off with, I wanted to show off this new nail polish I have- Minty Madness, by Polish Me Silly. This is a pretty colour that goes from a white to a mint green, depending on the temperature (long nails would likely highlight this variation best). Also in the polish are neon glitter pieces, ranging in size from teeny-tiny to decently sized hexagons.
I personally really liked this polish with a matte coat on top. While my nails stay mostly white due to the warmth of springtime, I do get to see the colours shift when I wash my hands or go into the freezer and it's pretty amazing. The mint green starts at the edge of the nail and travels down to the cuticle, making it look like sort of ombre without any extra work. As a lazy femme, this is to my benefit!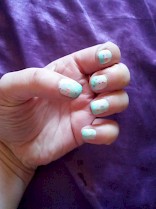 The mother/daughter duo behind Polish Me Silly do recommend that for colour changing nails you have slightly long nails, as nails that are short (like mine) may not really highlight the special effects. It does work on acrylic nails as well as natural ones, by the way.
I got a mini bottle (9ML) from their Etsy store which set me back $6.50. As you can see, it is a tiny bottle, but I think it's worthwhile for one that has that colour changing aspect to it! The ingredients that allow the polish to go through these changes have a 9 month shelf life, and the bottle shouldn't be left exposed to sunlight or it might wreck it.
I did have to use multiple coats (3 in all) to get this the opaqueness I was seeking. I think in the future I'd use a white flat colour underneath to bring out the colours of this one. Personally I'd probably use Spoiled by Wet & Wild's white colour, as it's got some good lasting power. I haven't had any chipping yet several days in.
All in all I'd totally recommend Minty Madness. I like the colour, with and without the colour change bit, and the neon goes with both colours really well. It's like a birthday cake on my nails! I'll review a couple other polishes I bought from Polish Me Silly as well.