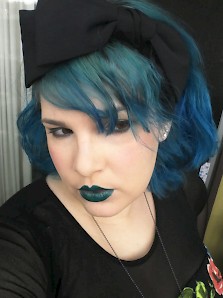 I'm a big Etsy fan when it comes to accessories, but am still pretty new to indie makeup. I've always been a bit out there in my tastes, so MAC, Makeup Forever, Inglot and Urban Decay have been my go-to makeups for my tastes. "Subtle" is not really something I'm known for. Still, with so few brands providing me the looks I want, indie makeup seemed like the place to turn. And I'm so glad I have!
I forget where I first heard of Melt Cosmetics. I think it might have been a femme group on Facebook? I went to the site and found a ton of lipsticks I was really excited to try. I ended up buying "Blow" and "Summer", and love them both so much. Heavily pigmented (at most I did two swipes), very very matte, and easy to put on even for a makeup n00b like me. I've definitely had "Summer" last me overnight, and tons of people complimented me on "Blow" when I wore it to the FPA screenings.
I'm still learning how to prevent lipstick from feathering, which I've had some issues with (green lipstick makes feathering super noticeable). I've been using the clear lipliner to no avail (I think I generally do lipliner terribly though). There's a lot of guides about how to prevent it, though if you have any personal tips I'd love to hear them!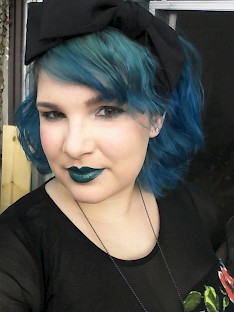 Melt's lipsticks are all matte, though I added a gloss just to the center of my look today and I think it gives them a nice glassy look. Because of how intense the colour is, I went for a pretty basic eyeshadow, with a light green liner above the eye to give it cohesiveness with the lips. I guess usually if you do dark lips you should go gentle on the eye makeup, but again, I'm not terrible subtle, so I went for a rosy pink with a silver lid, green liner and a dark silver liner over that. Oh, and for cheeks I went for a peachy colour, which I think worked with the overall effect.
I will say there's something about the consistency of this lipstick that made me think of borrowing my grandma's bright pinks. It doesn't exactly glide on. That said, it also is pretty thick! I used it straight from the tube for the main part of my lips then used a lip brush to perfect the lines, which is what I'd suggest to others.
In dark rooms people will think this lipstick is blue, rather than a dark blue-green. Keep that in mind when matching your clothes, as you'll need it to look right with both dark green and dark blue. I personally matched it with silver, coral, teal, and of course can't go wrong with black, but I think gold would also really highlight this lipstick and set it off wonderfully.
All in all, I think I'll be picking up more Melt lipsticks to add to my collection. I want a dark dark red next! And maybe purple. And maybe that grey...