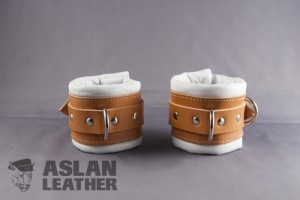 Last night I asked him to cuff me.
We've been fucking for months now, both in bed and in the wilderness, but always on equal footing. We took turns on paying bills and treating each other to beer at one local dive or another. After years of explicit power dynamics, I found it refreshing for my pleasure to be put front and center, my enjoyment his priority. He had been eating me out for weeks before I sucked his cock, a rare swapping of sexual roles in my experience. But then, he never held me down or held me back.
It used to be that when I asked for something kinky it was because the sex we were having bored me. I fetishize novelty, and I've been in these communities for 14 years. It's difficult to come up with something new and exciting for this jaded libido! So I would enjoy the vanilla sex for a while, then we'd get into spanking or toys or role plays because the sex on its own wasn't enough to hold my interest anymore. Developing a power exchange was not about trust or intimacy so much as it was about creating a distraction.
Not so this time. I realized that I wanted him to cuff me because I trusted him enough to be willing to see what he'd do if I was immobilized. I wanted to tell him what my fantasies were, the silly ones and the dark ones. This time is was about a deepening of intimacy, not a deflection. It wasn't about submission, or pain, but surrendering - not to him, but to my own desires.  I have always been both incredibly open about sex and very shielded about some of my own fantasies, but I have had nothing to fear from him. He has never laughed at me, never once made me feel self conscious. He caresses my belly, my upper arms, my thighs and I feel beautiful. He expresses concern when he sees blisters on my feet, not disgust. It's like we've known each other for years and it's only been a few months, yet I feel naked under his gaze in a way that's comforting.

As he wrapped the leather around my wrists I knew I could slip out of them easily. With other lovers, I would have been a brat, played a game, tried to provoke a punishment. But last night I linked my fingers together to remind myself I was bound, and I let his fingers and tongue travel over my skin, nestling into the hair of my cunt and armpits. He kissed me and I could taste myself on his lips. We fucked and I came harder than I had in months. I let go and exploded into a thousand pieces.
Last night I asked him to cuff me. He said he loved me for the first time in person, his own expression of surrender and intimacy. I cherish it as delicately as I cherish my own. It's beautiful and wild to love and be loved, to hold hands and walk around the lake, to press our bodies together in an abandoned hay maze unsure if we'll ever find our way out again.
I am a creature of control, and yet I delight in being lost with him, in him.
If you like this and want me to write more true life erotic pieces, please join my Patreon! Every $1 helps me make time to write things like this.